Forward Works Viewer
Forward Works Viewer is a free, secure online mapping tool for anyone planning or managing projects, events or major activities in the Queenstown Lakes District.
How it works
The Forward Works Viewer allows anyone delivering large scale projects or events to  take a holistic  approach to strategic planning.     
Users can  see what other work is planned in the same area enabling communication and collaboration across projects to identify efficiencies and opportunities and importantly minimise disruption for our communities.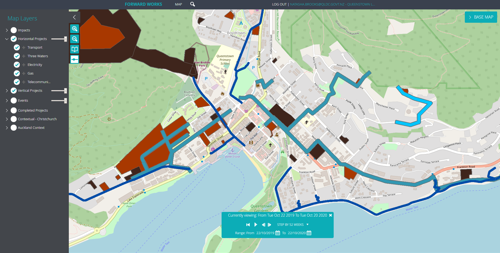 Benefits of signing up
Shared knowledge and more opportunities for communication

Understand potential impacts on your project or event early and work through any clashes

Potential for things like traffic management or trench digging to be done once to minimise community disruption and reduce costs

Improve coordination of projects, and gain awareness of what may be occurring around your event or project when you're in the early stages of planning. 
Interested?  
If you have any questions on the Forward Works Viewer or would like a demo, please email the forward works team or request access below. 
Stay up-to-date
Sign up to our newsletter Scuttlebutt and stay up-to-date with the latest news, events and information in the Queenstown Lakes District.