Queenstown Town Centre Street Upgrades
An exciting project will be kicking off soon to transform the Queenstown town centre streets into high quality public spaces that are safe and accessible for everyone.
About the project
Street upgrades are planned for  Brecon Street, Rees Street, Beach Street, Park Street and Hotops Rise.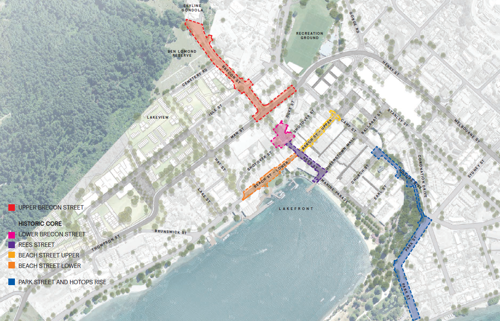 Delivered by QLDC and supported by funding from the Crown Infrastructure Partners, the project comes at a challenging time for the region and represents a significant investment into the future of the local economy.   
What to expect
The project will start on Lower Beach Street in early September.   
Further construction planning work and engagement with local businesses is underway to  establish the best staging and approach to delivering the upgrades.    We'll keep you updated as these plans are finalised.   
Our future streets
Our goal is to transform the Queenstown Town Centre into an inviting, family friendly and accessible space for everyone to enjoy. 
The upgrades will feature improved walking and cycling facilities providing a continuous link from the Queenstown Gardens to the Gondola.    Designed in line with the Queenstown Town Centre Design Guidelines, the upgraded streets will incorporate high quality materials and weave in local cultural  storytelling.    
Click below to read more details about what's planned for each street.   
Working with local businesses
Before construction starts later this year, we're engaging directly with affected businesses and the wider local community.   By working together we will ensure that supporting Queenstown and  promoting local business is central to project delivery.