Arrowtown CMA Trial: June - August 2020
This winter we're trialling the use of extra CMA (Calcium Magnesium Acetate) for winter maintenance in Arrowtown and the wider area between Centennial Ave and Arrowtown Lake Hayes Road.
The purpose of the trial is to explore whether there are benefits achieved on our network by reducing the use of grit and shifting the treatment towards CMA. 
What is CMA?
What is the trial area?
What to expect when driving on CMA
Provide feedback
What is CMA?
CMA (Calcium Magnesium Acetate) is a biodegradable and environmentally friendly/non-corrosive de-icing agent that is sprayed on the roads to stop ice from forming to about -7 degrees.
We typically use a combination of grit and CMA however there are potential advantages to reducing gritting and increasing CMA usage such as:
No grit to clean up  reducing cost and environmental impact

Fewer traffic accidents on loose grit

CMA lasts for up to 7 days, whereas grit can be displaced by traffic onto the verge after an hour

Overall significantly lower cost

Less grit on the side of the roads will improve safety for pedestrians and cyclists  
The downsides to CMA are that it can be removed by rain so can be a challenge to reapply quickly, and while it can be applied in light snow to stop ice packing down it will be less effective in a heavy snow event.  Should there be a heavy snow event we will still attend to that in the usual way by ploughing and gritting.
---
What is the trial area?
The following streets / roads are included in the trial:  
All Arrowtown urban streets

Speargrass Flat Road

Hunter Road

Malaghans Road (part)

Lake Hayes-Arrowtown Rd

Rutherford Road

Slopehill Road (east)

Hogans Gully Road

Centennial Ave

Mooney Road

McDonnell Road
What to expect when driving on CMA
As you can see on the image below, the roads will look a bit blacker and slightly wet when CMA is applied  and it can sometimes be confused with ice visually, especially after being freshly applied.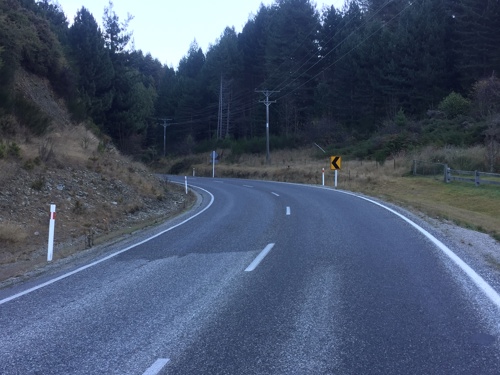 The surface can be slippery for a short period of time after being applied before it dries out.  We do our best to mitigate this by applying CMA in the early hours of the morning when traffic volumes are lowest.
Anyone driving in winter should continue to be careful and drive to the conditions. Extra care will be required after rain events or during periods of very cold weather.
Provide feedback on the trial
If you have any feedback on the CMA trial, please complete the online form below.  
Your feedback is important and will help to determine whether the trial was successful.  
After the trial
If the trial is successful we could consider increasing resourcing for CMA applicator trucks in future so the findings can be applied to the wider network.
Provide feedback on the Arrowtown CMA trial