Changes to commercial waste management to be introduced in Queenstown and Arrowtown Town Centres
Tuesday, 12 September 2023
Changes to commercial waste management to be introduced in Queenstown and Arrowtown Town Centres
Changes to commercial waste management are on the way to further boost a district-wide commitment to becoming a low-waste, low-emissions community.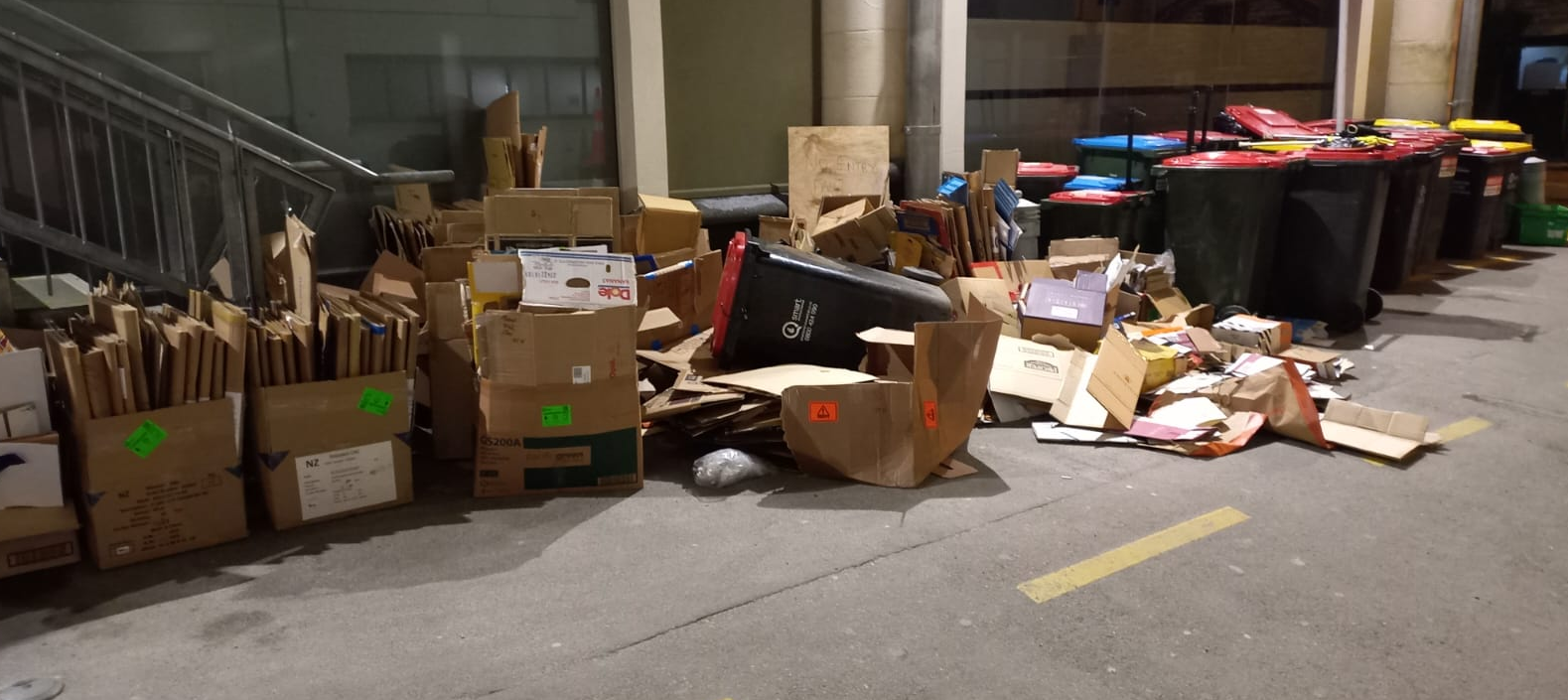 Changes to commercial waste management are on the way for the Queenstown and Arrowtown Town Centres, further boosting a district-wide commitment to becoming a low-waste, low-emissions community. 
There are currently three collection points in Arrowtown and six in Queenstown, allowing businesses to leave commercial waste and recycling out at allocated times for collection by a private provider. 
Queenstown Lakes District Council General Manager Property and Infrastructure Tony Avery confirmed the intention is to engage with local businesses, ahead of closing commercial waste collection points from 1 November 2023.
"QLDC does not provide a rates-funded commercial collection service and the current model was established to assist businesses to manage their commercial waste and recycling."
"While this has previously been a relatively successful model to support local businesses, unfortunately over the past few years a growing number have been leaving waste and bins out on public land outside of the allocated areas and times."
"We have reached the point where the volume of waste has outgrown the capacity of the collection points," Mr Avery said.
The closure of collection points means businesses will need to store waste and recycling onsite and arrange an 'on property' service.
"We know there are already many local businesses leading the way and taking impressive steps to not only manage their waste within their own premises but minimise how much waste they produce in the first place.  For those which are not, we are providing plenty of notice to give you time to consider a plan for the waste produced by your business," Mr Avery said.  
Before any closures are implemented, Council will hold drop-in sessions, providing an opportunity for businesses to talk to staff and Councillors about the changes and discuss any concerns.
Drop-in sessions are scheduled as follows: 
Monday 18 September, 10.00am – 12.00pm and 2.00pm-4.30pm at Queenstown Memorial Centre

Wednesday 20 September, 10.00am – 12.00pm at the Arrowtown Athenaeum Hall
"We all have a part to play in making sure our streets and public spaces are clean, inviting and safe for everyone to enjoy.  These changes solidify our commitment to protecting our environment and creating spaces we are all proud to spend time in and share with our visitors," Mr Avery said.
Businesses operating in Queenstown and Arrowtown Town Centre have been issued with a letter advising them of the upcoming changes.   Further reminders will be provided between now and the intended closure date of 1 November, along with resources and case studies to support businesses with the change.  
In conjunction with the collection point closures, QLDC is inviting early insights from the community to shape a new waste management and minimisation bylaw.  The bylaw is intended to set out a local regulatory framework for a range of waste and recycling matters including managing commercial waste and recycling, illegal dumping in public litter bins, leaving commercial/residential bins out for extended periods, event waste, construction and demolition waste, and waste minimisation.   Ideas and insights can be provided online at letstalk.qldc.govt.nz
ENDS|KUA MUTU.
Media contact: communications@qldc.govt.nz or call 03 441 1802.
FURTHER INFORMATION | Kā pāroko tāpiri
More information is available at www.qldc.govt.nz/commercial-services
These changes are aligned with: