Queenstown Cemetery Restoration
In September 2023, a section of the Queenstown Cemetery was damaged by a weather event. This part of the cemetery remains closed until restoration has been completed.
We understand the deep emotional ties many have to the cemetery and that the event has been distressing. However, we ask everyone to remain outside the impacted area (refer to maps below) while we undertake restoration. The rest of the cemetery reserve is open in dry weather conditions but may be closed if there are further wet weather events.
Quick links
Impacted plots at the cemetery
About a third of the Queenstown Cemetery was affected by the deluge. Debris is lying across the surface of the north-east section and some headstones have been displaced. No below-ground disturbance is visible.
---
Restoration of the Queenstown Cemetery
The cemetery will be fully restored. It's going to take some time as it's important to ensure no graves are damaged during the restoration process. This includes the features above ground and the burials below.
The Queenstown Cemetery is a multicultural, multi-denominational space. The restoration process will ensure inclusivity for everyone.
---
Process to restore the cemetery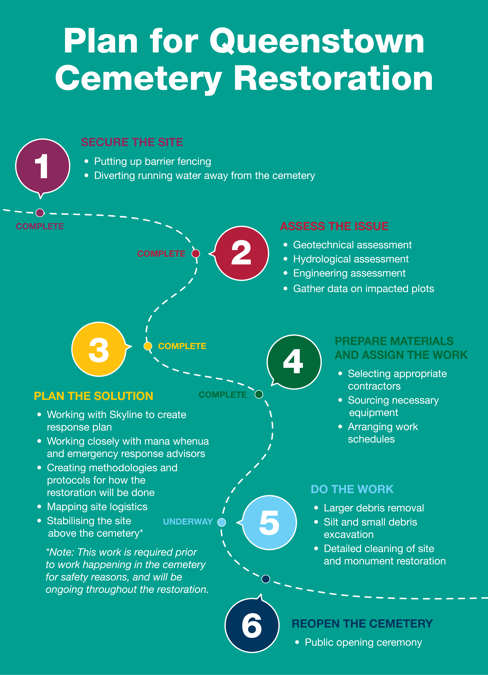 QLDC is working closely with Skyline who are carrying out the work. The initial focus is on stabilising the site above the cemetery by removing loose soil and material while installing more water control infrastructure. This will make the hillside and cemetery safer and is estimated to be completed by late October. Once this is complete, work will begin in the cemetery to remove the large debris.
The detailed cleaning phase is when we would safely be able to accept help from volunteers. We will advise via our newsletter when we reach this phase.
---
Blessing of the Queenstown Cemetery
A blessing was held at the cemetery on 5 October 2023. The private ceremony was attended by people with family graves that were affected, local religious leaders, the Mayor, other elected members, and Council staff. It included blessings from local kaumātua and faith denominations. This was an important milestone toward restoration work beginning.
Mayor Glyn Lewers speaking at the whakamoemiti ceremony in Queenstown Cemetery.

Photo 1 of 5

Local kaumātua Ned Webster.

Photo 2 of 5

Local kaumātua Darren Rewi.

Photo 3 of 5

St Margaret's Presbyterian Church Minister Clay Peterson de Oliveira.

Photo 4 of 5

St Joseph's Catholic Parish Priest Cipriano Fernandes.

Photo 5 of 5
---
Whakawātea Ceremony
In partnership with Kāi Tahu mana whenua and with support from Skyline, we held a whakawātea ceremony on 3 November to mark the start of restoration work inside Queenstown Cemetery. Work to clean up the area is expected to take at least a couple of months. When the restoration is completed, we'll host a reopening ceremony for the community.
Over 100 people attended the service at Upper Brecon Street just outside the cemetery.

Photo 1 of 8

Paulette Tamati-Elliffe from Kāi Tahu led the karakia and waiata.

Photo 2 of 8

Paulette Tamati-Elliffe from Kāi Tahu led the karakia and waiata.

Photo 3 of 8

Ian Guy from Wakatipu Community Presbyterian Church.

Photo 4 of 8

Michael Godfrey from Anglican Parish of Wakatipu.

Photo 5 of 8

Cemeteries Manager Tarsy Koentges.

Photo 6 of 8

Councillor Craig Ferguson

Photo 7 of 8

Ceremony MC and QLDC Parks Manager Dave Winterburn.

Photo 8 of 8
---
Stay up to date
We have been sending weekly email updates to impacted plot holders since the event occurred. If you would like to subscribe to these updates on our progress, please email: cemeteries@qldc.govt.nz