Pigeon Island
Wāwāhi Waka
This page provides all the information you need to book and safely use Pigeon Island Hut.
Quick links
---
Hut Facilities
The Pigeon Island Hut is Council owned and maintained. Bookings are required and processed on a first come first served basis. There are no fees to use this hut and it remains unlocked.
The Hut can be utilised year round and is accessible by private water transport only.
The hut sleeps ten comfortably (12 max). It has ten mattresses on two platform bases. It provides heating (log burner), a small kitchen table and an outside long drop toilet.
The hut does not provide running water, firewood, food, cooking utensils or gas burners, showers or bedding or toilet paper. Firewood can be gathered from driftwood around the island, please make woodpile is restocked.
Strictly no open fires allowed on the island (year round fire ban in place)

Strictly no dogs allowed on the island or surrounding islands (to protect native weka and ground nesting birds)

To support Pigeon & Pig Island being predator free and prevent further loss of New Zealand's unique taonga (treasured) species, visitors are asked to check for pests on their private vessels before heading to the island

There is an expectation that those that stay at the hut act responsible and leave the hut as they found it

Please report any damage or breakages to QLDC Customer Services at services@qldc.govt.nz

Your rubbish must be taken off the island

Do not remove anything from the island that would compromise it as a protected sanctuary

Guests must leave the hut by 2.00pm and new guests may only check in after 2.00pm.

The camping area is not subject to bookings.

Close

In an Emergency call 111

You will need to carry two forms of communication with you. There is reception for all three networks (Spark, Vodafone, 2degrees) but only on top of the hills.  

There is no electricity supply on the island

There is no water supply on the island so you will need to bring your own or boil lake water

There may be limited firewood supply (driftwood) on the island (for the hut log burner) so you may prefer to bring your own

The island can only be accessed by private water transport. Please always follow boating safety guidelines. Please see QLDC Lake Whakatipu Boating Guide via https://www.qldc.govt.nz/recreation/lakes-and-boating/boat-safety

Boats can launched at Lake Face Creek on the mainland, please move vehicles to the carpark above

The jetty on Pigeon Island can be used by the public and beach landings are permitted

Close
---
Pigeon Island Booking Form
Please take a look at the live calendar to ensure you are selecting a date that is available. Some important considerations include:
Booking requests are only processed during business hours.

You are advised to read the terms and conditions before submitting a booking.

Bookings will only be accepted over the phone if you have no access to online services.
---
How to get there
Pigeon Island | Wāwāhi Waka is located at the northern end of Lake Whakatipu off the Glenorchy-Queenstown Road.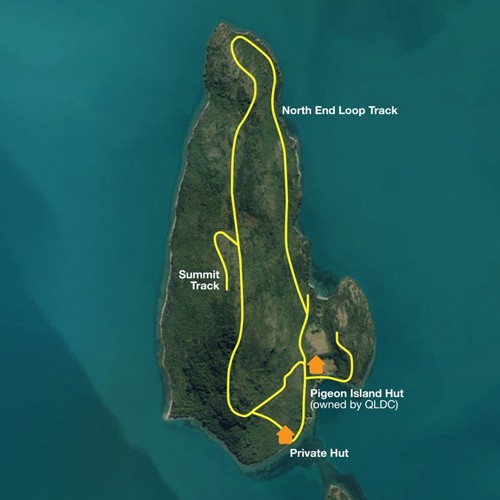 You will need privately owned water transport to access the hut. There is a jetty on the mainland and the island for public use. Beach landings are also permitted.
Please leave vehicles in carpark on mainland as opposed to the launch point at Lake Face Creek.
We ask that you please check for stowaway pests (e.g. mice/rats) on your boat or vessel before heading to the island.
Please note there are two privately owned huts on the island.
Stay up-to-date
Sign up to our newsletter Scuttlebutt and stay up-to-date with the latest news, events & information in the Queenstown Lakes District.