Summer Services 2020/2021
Opening hours at our customer service centres, sport and recreation facilities, and libraries will vary over the holiday period. Find all the details below.
Customer service centres
Our offices are closed from 3.00pm on 24 December until 5 January. If you need to report something urgently, staff are available 24/7.
If urgent, please call: 03 441 0499
Snap Send & Solve 
Snap, Send, & Solve is the new way to report issues on our community. 
If you spot an issue in the community you can now raise it with Council using an app on your phone called Snap Send Solve. The app is a simple, free and fast way to send QLDC 'Fix It' requests, meaning the next time you spot a pesky water leak on the road outside your house or a fallen tree blocking a trail, snap it then send it and QLDC will solve it. 
You can download the Snap Send Solve a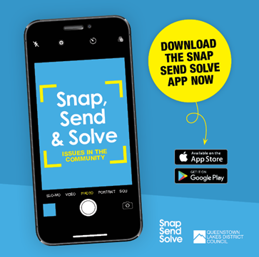 pp on Google Play and the Apple Store. 
Sport & recreation facilities
Libraries

Bin Collections
There will be no bin collection taking place on Christmas Day and New Years Day. If your collection day falls on a Friday, your bins will be emptied on the Saturday. 
Transfer Stations
Queenstown and Wānaka:
Open: 8.00am – 5.00pm
Closed: Christmas Day & New Years Day.
Check it's alright before you light
A restricted fire season is now in place. This means no fires without a permit. For full
details, including info about the use of backyard fires and BBQs, head to checkitsalright.nz.
Our district has a high risk of fire. There are a number of areas under a total fire ban all year round. This means no open-air fires or fireworks at any time:
Queenstown Red Zone

Pig Island

Albert Town Recreation Reserve and Campground

Coronet Forest

Mt Iron

Pidgeon Island

Ruby Island
Getting around the district
While it might not be quite as busy on the roads this summer, a bit of planning will mean you don't spend your gorgeous summer days stuck in traffic.
Try to avoid peak travel times or consider ditching the car for shorter journeys. Every person who chooses a different way to get around helps to ease congestion on the roads. We have some great trails suitable for walkers and cyclists and if you're in Queenstown the $2 bus is the perfect way to travel all around Wakatipu, even out to Arrowtown.
Always allow extra time for your journey over this period and avoid getting 'hangry' or worse, dehydrated, by making sure you keep plenty of snacks and water in the car - just in case you get stuck for a while.
Taking a dip?
Water quality is prone to change, and even sites with historically excellent water quality can see bacteria spike as a result of heavy rainfall washing contaminants from urban and rural land into waterways.
As a result, it's recommended to avoid swimming for two to three days after heavy rainfall, and checking the 'Can I Swim Here?' data to help determine whether you're safe to take a dip, or whether you should settle for a cold shower and shade instead.
As a general rule of thumb, if you can't see your feet when standing knee deep, it's not advisable to swim.
And always avoid any contact with algal scum. For more details on water quality at a spot near you, head to www.lawa.org.nz/swim
Use water wisely
Remember to use water wisely to help avoid the need for water restrictions this summer. There are lots of easy ways to reduce your water use, both inside your home and in the garden.
For tips on how to conserve water, head to www.qldc.govt.nz/watersaving-tips
Sign up for our Community Text Alerts to stay in the know about any changes to our water restrictions.