Sponsored Athletes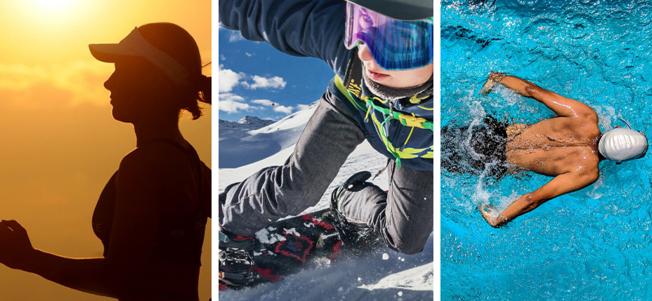 Our district is bursting with inspirational athletes through a range of disciplines - a true testament to our strong sporting culture and the community's passion for the outdoors.
QLDC Sport and Recreation has proudly supported local athletes in a wide variety of sports for several years.
Their dedication to training is greatly influential and a number of these athletes are making their mark on the international stage.
The sponsorship programme provides successful athletes with free access to QLDC Sport and Recreation facilities at Alpine Health and Fitness, Alpine Aqualand (both located at Queenstown Events Centre), Arrowtown Memorial Pool and Wānaka Recreation Centre.
Support also includes access to QLDC Sport & Recreation programmes (including Tri Squad, the swim  programme at Alpine Aqualand) and Rockatipu Climbing Wall.
Here's is a list of our current sponsored athletes (in alphabetical order):
Abby Fisher - Athletics
Anna Claire Thompson - Power lifting
Callum Burns - Ice hockey
Cam Melville Ives - Snowboarding
Connor Paton - Swimming
Conor Macfarlane - Mountain Biking
Cool Wakushima - Snowboarding
Cruz Morland - Swimming
Fin Melville Ives - Skiing
Fiona Gallagher - Triathlon
Gabby Mills - Ice hockey
Irshadd Sayed - Mixed Martial Arts (MMA)
Jess Blewitt - Mountain biking
Jordon Doherty - Jui jitsu
Kate Bennie - Swimming
Kathyrn Nevatt - Freediving
Kim Cadzow - Triathlon
Laura Reidy - Ultra-running
Logan Campbell - Triathlon
Marc Perry - Wrestling
Meggie Bichard - Multisport
Mel Webster - Mixed Martial Arts (MMA)
Niamh Towsen - Athletics
Olivia Key - Alpine skiing and rowing
Olivia Helmore - Cross-country skiing and biathlon
Peter Jackson - Triathlon
Renan Secco - Jui jitsu
Sara Jameson - Swimming
Sarah Douglas - Mountain running
Tamsin Brown - Triathlon
Weston Hill - Running.
Applications for 2020/21 have now closed.
Sponsorship benefits will start on 1 August 2020 and expire on 31 July 2021. Applications for 2021/22 will open in the autumn.
The maximum number of sponsorships that can be awarded across the district in one financial year is 30.
You can read more about the selection criteria below.
• Athletes must reside within the Queenstown Lakes District for more than nine months of the year
• Athletes aged under 18 must have parental approval; a parent/guardian will need to read this waiver form and click the appropriate box in the application form
• The athlete has been selected to represent NZ in their chosen sport at age group level or higher. In addition, the factors below will be taken into consideration:
- Results
- Goals
- At least two supporting references.

Where the athlete's chosen sport does not have NZ representation, these three factors will determine the success of their sponsorship application.

• Retaining sponsorship is not solely dependent on annual achievements
• Athletes wanting to renew a sponsored athlete membership should meet all of the latest sponsorship conditions. Reselection will take into account their media presence and promotion of QLDC during their previous membership term
• Photos provided by the athlete could be used online by QLDC for marketing purposes
• Athletes must complete the application form in full before 5.00pm, June 21 2020; this includes the required attachments such as references, biography, and photos for use on the QLDC Sport & Rec website and social media channels.

Close

Our approach to these sponsorships is one of collaboration between QLDC and the athletes, and we want to create an environment that will work for everyone.

Athletes must abide by the World Anti-Doping Agency guidelines on the misuse of drugs.  Athletes are required to inform QLDC immediately if they have failed any drug test. Athletes are required to refund full centre membership fees should they test positive to any banned substance

Sponsored Athletes must be 13 years and older. Athletes between 13-15 years of age cannot use the gym unless they are under constant supervision of a qualified fitness professional. Qualified health and fitness professional must hold either:

Current Personal Training Certificate

Current Strength and Conditioning Coaching qualification, and have had 2+ years coaching experience

13-15 year old sponsored athletes are able to use the pools, TeenFit-approved group fit classes Strength 101 (a strength class specific to teens). Applications for athletes under 18 years of age must include a signed parental consent waiver form. If under 18 year olds are offered a sponsorship, the sponsorship contract must also be signed by the parent or caregiver

Athletes are expected to attend at least one event, programme or opening per year of sponsorship to represent QLDC alongside our staff at a date and time agreed between the athlete and/or parent and QLDC. We see this as an opportunity for the athlete and QLDC to provide inspiration to our community by showcasing the stories of our Sponsored Athletes

You must abide by all Queenstown Events Centre and Wanaka Recreation Centre policies at all times

QLDC will provide the logo and brand guidelines which must be followed. The logo must be included on athletes' newsletters, personal websites, and all social media platforms. QLDC is to be listed as a personal sponsor for the period specified in the cover letter

At least two recent high resolution photographs of the athlete performing their chosen sport and a good quality head or face shot must be provided as part of the application

A biography of around 150-200 words detailing athletic history, current plans and future aspirations must be provided as part of the application)

Athlete images and biography will be used on our website (examples can be seen at sportrec.qldc.govt.nz/gym/sponsored athletes/) and/or in member newsletters or blogs and social media platforms

Athletes must regularly keep us informed of progress by emailing their point of contact at QLDC with any relevant good quality photos attached every three months, due dates: 1 October 2020, 1 February 2021, 1 April 2021 

Athletes must 'tag' @QLDCSportRec (Facebook) and @queenstownlakes (Instagram) in media posts (including social media) alongside your other sponsors

Coaches may accompany athletes for free when attending the facilities. The coach must make themselves known to the customer services team upon arrival and collect a visitor badge. The coach cannot use the gym facilities for their personal use

Injured athletes must advise QLDC within 48 hours of any such circumstance that prevents you or may prevent you from competing in the event for which you have received this sponsorship

Injured athletes will retain sponsorship for the remainder of the agreement if rehabilitation commences with plans to continue to compete.

Close