Parking
Tūranga waka
Find out where to park, where not to park, what to do if you get a ticket and info about the permits available.    
Quick links
Parking Maps
The below button will take you to all of our parking maps which highlight bus parking, mobility parking, taxi stands and loading zones across the district. 
Parking Prices
| | | |
| --- | --- | --- |
| Location | Price | Time |
| Athol Street | $4/Hr | 8am-6pm Mon - Sun, 4 Hour Max |
| Ballarat (off street) | $2/Hr | 8am-6pm Mon - Sun, 10 Hour Max |
| Ballarat Street | $4/Hr | 8am-6pm Mon - Sun, 1 Hour Max |
| Boundary St | $1/Hr | 8am-6pm Mon - Sun, 10 Hour Max |
| Camp Street | $4/Hr | 8am-6pm Mon - Sun, 4 Hour Max |
| Camp Street | $4/Hr | 8am-6pm Mon - Sun, 4 Hour Max |
| Earl Street | $4/Hr | 8am-6pm Mon - Sun, 4 Hour Max |
| Marine Parade | $4/Hr | 8am-6pm Mon - Sun, 4 Hour Max |
| Memorial Street | $4/Hr | 8am-6pm Mon - Sun, 1 Hour Max |
| Stanley Street | $4/Hr | 8am-6pm Mon - Sun, 1 Hour Max |
| Coronation Drive | $4/Hr | 8am-6pm Mon - Sun, 2 Hour Max |
| Recreational Ground  | $1/Hr | 8am-6pm Mon - Sun, 10 Hour Max |
| Lakeview | $3/Hr | 8am-6pm Mon - Sun, 10 Hour Max |
Carpooling
Carpooling permits are available in Queenstown for drivers who have three of more occupants, all with a carpool permit.
Permit holders may park in the Boundary Street Car Park for a maximum of 12 hours in any 24 hour period. Holding a permit does not guarantee a space

Permit holders must comply with carpark rules

Carpool cars must have three or more occupants with carpool permits

Each person using this vehicle to carpool must clearly display their permit on the dashboard (i.e., three carpoolers = three permits)

Permits will only be issued to persons of legal driving age who are holders of valid New Zealand driving licences and live outside the Queenstown exclusion zone.

Permits are valid for 12 months from the date of issue.

Any person found not adhering to the above rules will forfeit their permit and infringement notices may be issued.
Apply for a carpooling permit:
Click here to apply for a carpooling permit
Please note: Carpooling permits include a $20.00 charge if your application is successful. Applications for a Carpooling permit must be made by Friday 19 August, and permits will be assigned to those who apply first and provide the required information.
Please note: There is no carpooling permit scheme in Wānaka currently.
Boundary Street Carpark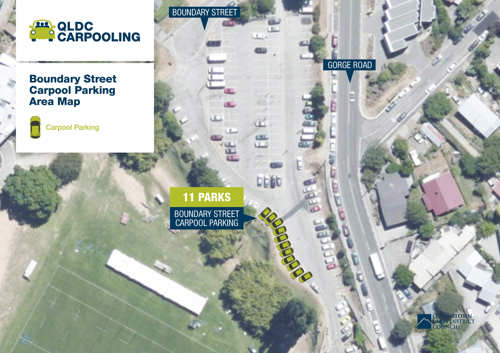 Parking Permits
There are a number of parking permits available in the Queenstown Lakes District.  Choose the permit you wish to apply for below and follow the application instructions.  
Before you apply: 
We recommend you read the criteria and process information below: 
Reasons we issue parking tickets
We issue parking tickets for a range of reasons. Some of the more common reasons include:  
failing to pay for your parking.

overstaying time limits.

unsafe parking.

parking a vehicle in public without a current warrant or registration.
You can download a full list of parking offences below: 
Got a fine? Here's what to do
Choose how to pay
There are a number of options for paying a parking fine.   
Online - see button below.

In person -  we accept cash, eftpos or Visa/Mastercard at our Gorge Road (Queenstown) and Ardmore Street (Wānaka) offices. 

Direct credit  to account number:  02 0948 000 2000 00 - make sure you use the parking ticket number as the reference .
Appeal the fine
If you feel you have received a ticked unfairly, you may choose to appeal it.    Tickets will only be waived with proof of extenuating circumstances, for example a medical emergency or a breakdown.  
If you were ticketed because your car wasn't registered or warranted, and you now have proof that you are, your ticket will be waived.  Please follow the prompts on the waiver request form below. 
What to know before you appeal a ticket
Please have a read of our parking ticket overview guide or if you want to get into the detail check out the parking legislation below.  
The request form will ask you a range of questions depending on the type of parking ticket you received.  If the request is declined, you will be automatically redirected to an online payment page.  If the request requires more investigation it will be sent to our regulatory team to review.  
You will need to provide proof (medical certificate, breakdown proof from the mechanic, current rego/warrant etc.) so please ensure you have these available to upload.
Stay up-to-date
Sign up to our newsletter Scuttlebutt and stay up-to-date with the latest news, events & information in the Queenstown Lakes District.