Supply and treatment
Quick links
We provide a reticulated water supply to more than 17,000 properties in the district, via twelve water treatment plants.
We own and manage 680 km of pipes that require 34 pump stations to move the water through the network and to your property. 
Resource consents are required for the abstraction of natural water that is used for public supplies.  These stipulate the amount of water than can be taken on a daily or weekly basis and a maximum rate of extraction (litres per second).   We currently have 21 water take consents issued by the Otago Regional Council.  
As the primary water supplier to the district, we are required to provide a supply of water to homes and businesses that is safe for human consumption.
Water treatment
In our district we are fortunate to have access to very high quality water sources to utilise as our public drinking water supply. However, treatment is still required to ensure the water we provide into homes and businesses is safe for those using it. Within the district the majority of our water sources are treated through a combination of Ultraviolet (UV) disinfection and chlorination. Providing multiple treatment barriers is necessary to ensure the safety of our water.  In a small number of schemes additional treatment steps may also be included such as filtration and pH correction.
Only around half of all New Zealanders receive fluoridated drinking water. Until now, it's been up to local authorities (councils) to make decisions around fluoridating their water supplies. The
Director-General of Health now has the authority to decide if community drinking water supplies
should be fluoridated. 
UV Disinfection
Disinfection with UV light is a simple and effective method of addressing any bacteria and/or protozoa that may be present in the raw water. The high frequency UV light waves disrupt the DNA of the organisms, rendering them harmless.  The effectiveness of UV treatment is a factor of the intensity of the light radiated, the clarity of the water (UV transmissivity & turbidity), as a result this method of treatment is ideal for high quality raw water sources. However, UV treatment alone does not provide a robust barrier against viruses.
Filtration
A small number of our treatment facilities incorporate filtration as an additional treatment barrier to supplement UV disinfection and chlorination. Filtration is a physical process which prevents the passage of solid particles (both organic and inorganic). In our treatment plants filtration is utilised as a primary treatment process upstream of UV disinfection which ensure the UV disinfection can be as effective as possible.
 pH Correction
Some of our raw water sources have low pH levels. pH is deemed as an aesthetic determined under the New Zealand Drinking Water Standards, however, when the pH is too low the plumbosolvency of water increases which can cause issues with older private plumbing. To address low pH chemical additives are dosed into the water. Within the district we utilise either lime or soda ash for this purpose.
Chlorination
The addition of chlorine to the water provides a barrier against bacteria and viruses (not protozoa). Chlorine disinfection kills the pathogens by breaking chemical bonds in the molecule.  A unique advantage of chlorination is that it provides a residual treatment capability as the water passes through the reticulation to the end users. This is vital to help address the risks arising from potential contamination points in the network. The Water Services (New Zealand Drinking Water Standards) Regulations 2022 requires that there is a minimum residual at the end of the network. QLDC operates their treatment plants such that the applied dose at the treatment plant is as low as possible so as to ensure the minimum level is achieved whist maintaining an appropriate factor of safety.
Chlorination
All Council-owned  water supplies are treated using Chlorination.  This follows an extensive community consultation in 2017 and the Havelock North water contamination crisis is 2016.  
We're upgrading our water treatment processes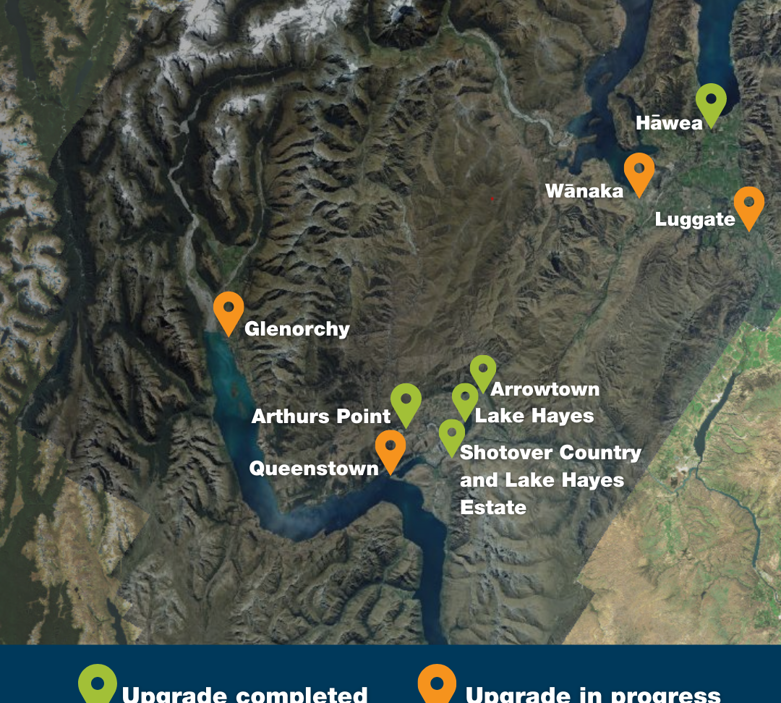 | | | | | |
| --- | --- | --- | --- | --- |
| Township | Source Type | Treatment Type | Upgrades required to reach full DWQAR compliance | Expected timeframe for upgrade |
| Arrowtown | Bore(s) | UV and Chlorination | Fully compliant | N/A |
| Arthurs Point | Bore(s) | UV and Chlorination | Fully compliant | N/A |
| Glenorchy | Bore(s) | Chlorination | Treatment barrier for protozoa | 2025 |
| Hāwea | Bore(s) | UV and Chlorination | Fully compliant | N/A |
| Lake Hayes | Bore(s) | UV, Chlorination, Lime (pH correction) | Fully compliant | N/A |
| Queenstown | Lake Intakes | Chlorination at both intakes and UV at Kelvin Heights | Treatment barrier for protozoa at Two Mile treatment plant | 2028 |
| Wanaka | Lake Intakes | Chlorination | Treatment barrier for protozoa | 2028 |
| Shotover Country and Lake Hayes Estate | Bore(s) | Filtration, UV and Chlorination | Fully compliant | N/A |
| Luggate | Bore(s) | Chlorination, soda ash (pH correction) | Treatment barrier for protozoa | 2025 |
Our water monitoring
Each of the QLDC managed community supply water schemes are monitored regularly in accordance with the Water Quality Assurance Rules 2022. Water quality is monitored at each treatment plant for pH, turbidity, free available chlorine (FAC), total coliforms and Escherichia coli (E. coli). This is to ensure that the treatment process meets compliance requirements and also that the results comply with the Maximum Acceptable Values (MAVs) in the standards. The water is again sampled for the same parameters at sampling points within the distribution system
The supply source for each water scheme is monitored for a wide range of parameters, the latest results are available below.
For a number of years the Lake Wanaka water supply has been affected by the presence of algae, often known as 'lake snow'. The algae is not harmful from a health perspective, but can affect water filters, irrigation fittings, new appliances and other equipment. 
In mid-2016 we began receiving reports of algae build-ups in a number of water filters around Queenstown that take water from Lake Wakatipu. It has been identified as the same algae that has affected the water system in Wanaka for the past eight years or so.
This is not a health concern, but if you notice a significant drop in water pressure at home it might pay to check and clean your water filter, and let us know so we're aware of the scale of the issue.
We're currently working with the Otago Regional Council and their partners to learn more about the naturally occurring algae, what causes it, and what treatment options are available.
The Council has released a brochure "Managing Algae in Your Water Supply" which details the possible effects of the algae  and how to deal with it.
Plumbosolvency notice
Some plumbing fittings have the potential to allow minute traces of metals to accumulate in water standing in the fittings for several hours.
 Although the health risk is small, the Ministry of Health recommends that you flush a mugful of water from your drinking-water tap each morning before use to remove any metals that may have dissolved from the plumbing fittings.  
We are recommending this simple precaution for all households, including those on public and private water supplies.
Stay up-to-date
Sign up to our newsletter Scuttlebutt and stay up-to-date with the latest news, events & information in the Queenstown Lakes District.