All-weather turf at Queenstown Events Centre
A new all-weather multisport turf at Queenstown Events Centre opened in October 2021.   
The full-sized hockey turf will be used as separate, smaller areas for junior games and training as well as other sports and fitness boot camps.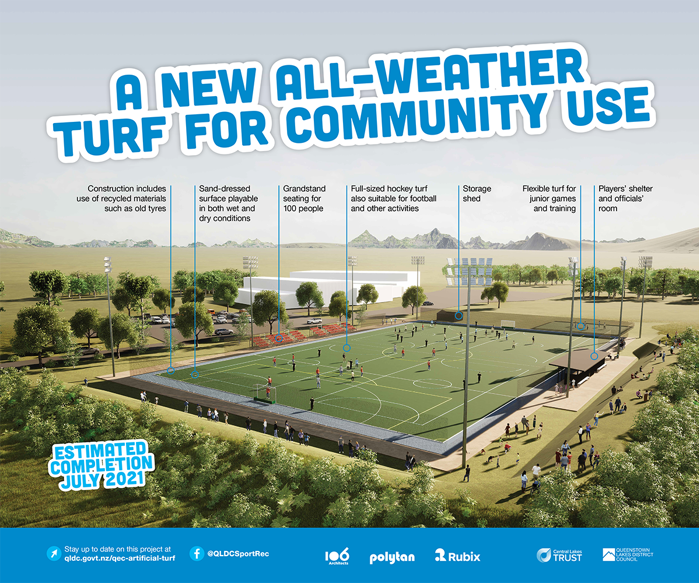 Construction gets underway - Feb 2021
"This is something our town clearly needed. It will serve as a major boost to the local sporting community for years to come." - QLDC General Manager Community Services Thunes Cloete, February 2021
Image gallery
Photo 1 of 5

Photo 2 of 5

Photo 3 of 5

Photo 4 of 5

Photo 5 of 5
A bit of background
Demand on the rise
A Central Otago Hockey Review report in 2018 found that:
The resident playing population of 5-49 year olds in the Wakatipu Ward was projected to increase by 19% in the ten years to 2028 from 25,557 to 32,627.

The playing population was projected to grow by 11% in the five years to 2023.

The key market segment for hockey [and football] growth was the 5-19 age group which is projected to grow by 37% (1,519) in the ten years to 2028; a significant surge of 22% was projected over the first five years.

The combined total roll of Wakatipu schools had increased by 797 students from 2,466 in 2013 to 3,263 in 2017; this represented a 32.3% increase over the whole period, and a 6.46% average annual growth rate.
Researching a solution
QLDC contracted Global Leisure Group (GLG) to complete an independent feasibility study for the proposed artificial turf.
The feasibility study defined the facilities required, its projected use profile and the financial model (including operational revenues and costs and the ballpark capital cost of the planned development).
Here's a summary of the key findings:
There is a strategic gap and need for hockey and football artificial turf facilities in the Queenstown area. The chronic shortage of capacity for hockey means the development of a full-size hockey compliant field followed by a full-size compliant field for football (and possibly rugby) is the optimum strategy.

In terms of user charges, the hockey turf is a built facility and the Council Funding Policy specifies a 30% cost recovery level for sports facilities. There is potential to generate revenue to meet the 30% cost recovery target through use of the field initially by both hockey and football and within six to ten years by hockey alone.

The cold winter evening temperatures could reduce capacity by constraining usable hours and this has influenced the surface type being recommended.

The preferred solution is a floodlit artificial turf area accommodating a full-size sand-dressed hockey field. A sand-dressed surface does not require water (and related costs) and is longer lasting than a water surface (lower annual provision for surface renewal). Support facilities such as team dug-outs, changing rooms and toilets are also needed. Sheltered spectator seating is limited to 100 seats. It is not intended to be an event field (this is the Central Otago Sports Turf at Cromwell). However, space for provision of temporary seating should be included in the design.
Why QEC?
The preferred location is Queenstown Events Centre (QEC) for several compelling reasons including:
Its central location.

Extensive existing infrastructure to provide the support facilities needed without the requirement to build new facilities (e.g. parking).

Potential to partner with other sports codes at QEC, e.g. sharing facilities and services from participation through to high performance. Hence the potential to sharing the development's whole-of-life costs through supplementary hire revenues.

Proximity to Wakatipu High School and Remarkables Primary School.

The QEC option with utilisation of existing support infrastructure dramatically reduces the capital cost, estimated at approximately $2.0-2.5 million (based on similar artificial turf developments elsewhere in Aotearoa New Zealand).
Background info to download
Stay up-to-date
Sign up to our newsletter Scuttlebutt and stay up-to-date with the latest news, events & information in the Queenstown Lakes District.