Safety upgrades and new roundabout coming to Aubrey Road and Anderson Road intersection in Wānaka
Friday, 08 September 2023
Safety upgrades and new roundabout coming to Aubrey Road and Anderson Road intersection in Wānaka
New roundabout to provide welcome improvement for drivers, people on bikes and pedestrians using the intersection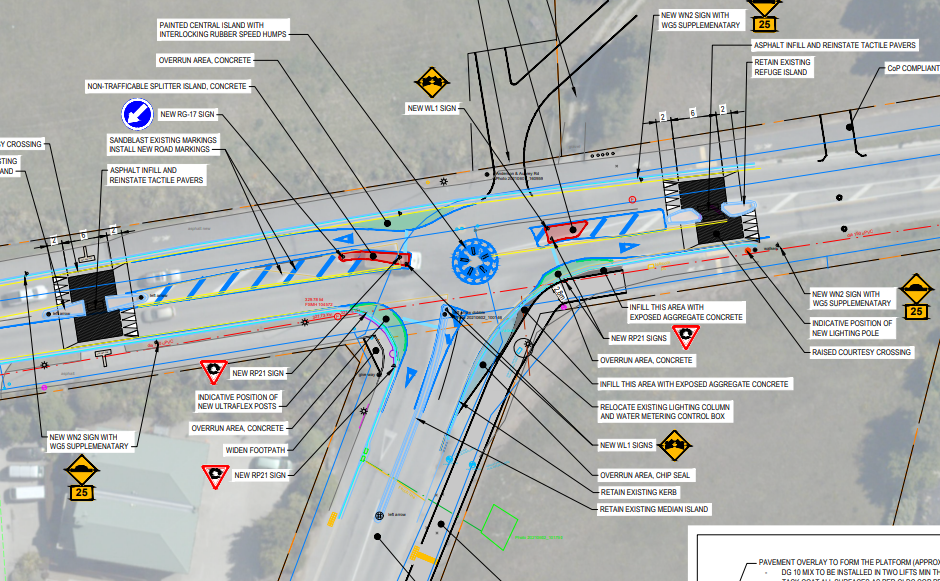 Construction of a roundabout at the intersection of Aubrey Road and Anderson Road in Wānaka is set to begin next week, as part of a continuing programme of works between Queenstown Lakes District Council (QLDC) and Waka Kotahi New Zealand Transport Agency to improve safety for road users in the area.
QLDC General Manager Property & Infrastructure, Tony Avery shared that once complete, the new roundabout would provide a welcome improvement for drivers, people on bikes and pedestrians using the intersection.
"Our programme of works with Waka Kotahi provides an opportunity to continue to deliver simple but effective solutions for the safety of all road users in the Upper Clutha," said Mr Avery.
"The upgrades coming to the Aubrey Road and Anderson Road intersection will make a significant difference to the growing number of vehicles and those cycling using the junction, helping get everyone through efficiently, calming traffic and improving safety."
The new roundabout will include a slightly amended road layout, new raised courtesy crossings to provide safe passage for people walking to cross, and a connection for the soon-to-be-completed shared pathway on Anderson Road.
The project follows work announced by Council in July as part of the Schools to Pool active travel route, which will see four raised courtesy crossings added on Rata Street in addition to improvements to its intersection with Aubrey Road.
Wānaka-Upper Clutha Community Board Chair, Simon Telfer was particularly pleased with both the number and pace of improvements, noting plans for roundabouts at the intersections of Ballantyne Road and Riverbank Road in Wānaka, and Capell Avenue and Domain Road in Hāwea to commence in the coming months.
"These projects are investing in the safety of everyone in the community, whether they choose to travel on foot, by bike or by vehicle," said Mr Telfer. "And as the Upper Clutha grows, it's important our transport network adapts to remain efficient, secure, and easy for all to use."
Work is expected to begin on the roundabout at Aubrey Road and Anderson Road on Monday 11 September, and crews will be working onsite Mondays to Saturdays, between the hours of 7.00am and 6.00pm.
Temporary changes to traffic movements will be required in the area as the project progresses, including traffic lights operating at the intersection from Monday 18 September.
Mr Avery acknowledged the temporary controls would cause some inconvenience, but pedestrian and emergency access would be maintained at all times through the worksite.
"Crews on site will be working hard to complete the work as fast as possible, and the end result will be a greatly improved space that benefits all users of the intersection," said Mr Avery.
A tender for construction of the Capell Avenue and Domain Road roundabout in Hāwea is expected to open next week, and design is currently being completed for the Riverbank Road and Ballantyne Road roundabout.
These road safety improvements are partially funded by Waka Kotahi's Road to Zero strategy, which adopts a world leading evidence-based approach and delivers cost effective upgrades to improve road safety.
The contract for this work was awarded to John Fillmore Contracting Ltd (JFC).
ENDS|KUA MUTU.
Media contact: communications@qldc.govt.nz or call 03 441 1802.
FURTHER INFORMATION | Kā pāroko tāpiri
Upper Clutha Safety Improvements Programme: www.qldc.govt.nz/wanaka-road-safety-improvements