Tree Policy 2010
Our QLDC Tree Policy was adopted in May 2006.  It outlines how we intend to protect and manage our District's trees.  This policy was updated in March 2009, and adopted in 2010.
---
Arrowtown Historic Zone Tree Maintenance
If you want to remove or prune a tree in the Residential Arrowtown Historic Management Zone, there are a few steps you'll need to take first.
What is the Residential Arrowtown Historic Management Zone?
Historic Arrowtown has a truly unique character.  We want to make sure this character is protected and have introduced a special zone called the Residential Arrowtown Historic Management Zone which restricts any maintenance or removal of trees in this area.  There are steps you can take if you have legitimate reason to either have a tree removed or pruned in this zone – but you might need a resource consent first.
The Residential Arrowtown Historic Management Zone
The light purple area below indicates the historic zone.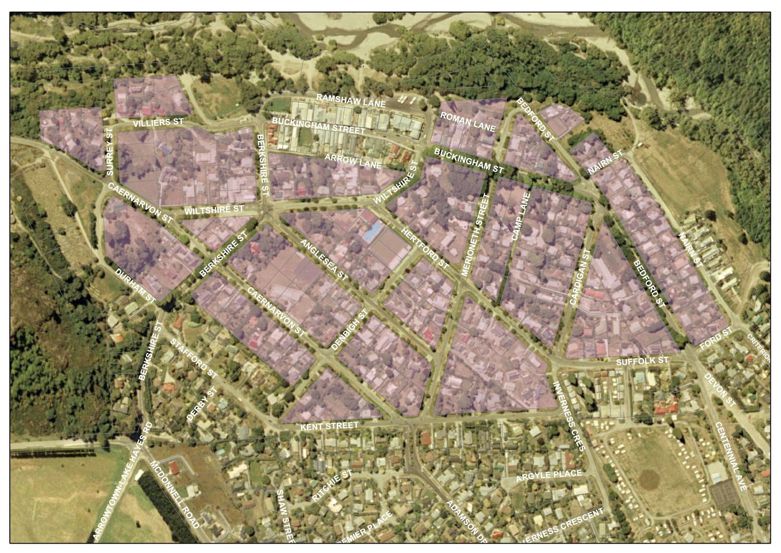 ---
What can I do if I want to prune or cut down a tree within the zone?
---
What if I do require a resource consent?
We will cover the cost of resource consent fees.  Fill in an application form online or pick one up from the Arrowtown Library or Queenstown Council office.
If you remove or prune a tree within this zone without consent, then you could receive a fine under the Resource Management Act 1991.
---
Are there any other costs involved?
You might be required to get an independent Arborist's report, especially if you are proposing to remove a tree. This will be at your own cost.
Tree pruning/removal on private property – you will have to cover all costs involved in pruning/removal.
Tree pruning/removal on Council land – the cost of pruning/removal will be subject to negotiation.
---
Wilding trees
The Wakatipu Wilding Conifer Group Inc is working hard to manage the spread of wilding trees in the Wakatipu.
Check out their website here:
https://www.wakatipuwilding.co.nz/
The Wakatipu Wilding Conifer Control Group Incorporated (WCG) is a community organisation created in April 09, the WCG is a charitable 'not- for-profit' organisation .  They're focused on protecting the resplendent biodiversity and remarkable landscape of the Wakatipu, for the benefit of residents, users, tourists and particularly future generations.
---
Overhanging vegetation
Overhanging trees and bushes can be a real nuisance. This page explains the rules and how to go about having overhanging vegetation removed.
This is an enforcement issue. The Council can require the property owner to trim or remove the tree to minimise any obstruction to pedestrians or traffic.

How to make an enquiry: Contact the Council or make a Service Request

What will the Council do? The Council will serve a notice to the property owner and this will give them a limited amount of time to have the tree trimmed before the Council carries out the work at the owners cost.

Property owners do have the right to apply to the Court to have the notice set aside, but must do so within ten days of receiving it.

Close

This is the Council's responsibility. All maintenance work is to be carried out by QLDC contractors and any work will be in line with the Council's tree policy and District Plan requirements.

How to make an enquiry: Contact the Council or make a Service Request

What will the Council do? The Council will put in a request for service to have the complaint assessed. If required, the council contractor will trim or remove the overhanging vegetation.

Close

A dispute between residents over trees on private property is a civil matter and needs to be resolved between the parties concerned. The Council will not get involved in this type of matter.

How to make an enquiry: Contact Queenstown Citizens Advice on 03 442 6799 or Wānaka Community Networks 03 443 7799, or your lawyer.

Some tree removal on private property does require resource consent. 

Consent is required for any tree removal or maintenance in the Arrowtown Historic Zone which is protected under the District Plan. Protected heritage trees also require a resource consent before any removal or maintenance is carried out, to see if a tree is protected please check our mapping system or contract our Parks Team.

Close
---
Potentially dangerous tree removals
Following a survey of all trees within falling distance of our district's roads, we've developed an interactive map which allows you to see where trees identified as potentially dangerous are. Click on the following link and either enter a street name or address in the search function to see if there are any potentially dangerous trees in your area:
When a tree is identified as potentially dangerous and sits within the road reserve, our contractors work to remove that tree.  We also work with private land owners to have potentially dangerous trees on their property removed at the same time.