Luggate Memorial Centre
Whare Mahana
Since Luggate Memorial Hall closed in 2017, we've been working closely with the Luggate and wider Upper Clutha community to plan for an innovative, future-proofed replacement community centre that will meet current and future needs of Luggate, the Upper Clutha and wider district. 
This centre is a test case for future community facilities in the Queenstown Lakes District, and will be potentially the first Passive House-certified community facility here in Aotearoa New Zealand. 
Click here to read the latest media release, 'Community Board recommends Council funding and agrees name for new Luggate community facility' (Thursday, 17 September 2020).
The goals of the project are to provide a space which:
is a focal point for the community heart
is a smart and viable solution for a growing community
offers a healthy, comfortable environment to help foster vibrant communities. 
Project timeline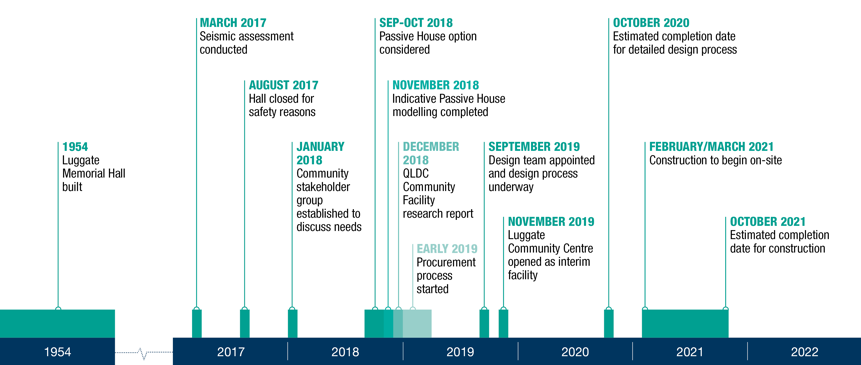 1954 – Luggate Memorial Hall built
March 2017 – Seismic assessment conducted
August 2017 – Hall closed for safety reasons
January 2018 – Community stakeholder group established to discuss needs
Sep-Oct 2018 – Passive House option considered
November 2018 – Indicative Passive House modelling completed
December 2018 – QLDC Community Facility research report
Early 2019 – Procurement process started
September 2019 – Design team appointed and design process underway
November 2019 – Luggate Community Centre opened as interim facility
October 2020 – Estimated completion date for detailed design process
February/March 2021 – Construction to begin on-site
October 2021 – Estimated completion date for construction
---
Luggate Community Centre - An interim solution
While work on the permanent replacement is underway, a fully-accessible building has been installed on the Hopkins Street Reserve in Luggate.
The Luggate Community Centre opened in November 2019 and is expected to be in use until the permanent replacement is completed in mid-2021.
The centre is a relocatable building which includes a kitchen, bathrooms and a main function space and is the perfect place for events, meetings and classes. To enquire about holding your event or class here please contact  the QLDC Venues booking team:
T: 03 450 9109
bookings@qldc.govt.nz