About the project
'Manawa' is te reo Māori for 'heart'. It's QLDC's vision that there is a cultural and civic heart for the wider district located in central Tāhuna Queenstown. Located on Stanley Street in the Queenstown CBD, the goals of Project Manawa are to deliver a range of cultural and community facilities such as a community and arts spaces, a new dedicated library, a performance and visual arts centre, a town square, and commercial buildings, as well as the Council's new administration building.
The Stanley Street site has long been a topic of conversation in our community. In 2017 it was identified in the Queenstown Town Centre Masterplan as the preferred location of a community heart with new Council offices and a variety of cultural facilities to benefit the whole district.
Following that, in June 2019, Councillors approved a proposal to enter into a Partnering Agreement with Ngāi Tahu Property to agree a development plan for the Stanley Street site.
During 2021, the Three Lakes Cultural Trust, with Council's assistance, secured a lease of premises in Frankton to develop a community arts and culture hub (with a ten-year horizon). Known as Te Atamira, the facilities will provide a significantly improved space for a wide range of groups, including the existing tenants of the Queenstown Arts Centre and Queenstown Performing Arts Trust buildings, whose leases end in mid-to-late May 2022. The Te Atamira facility will be hosting its first exhibition in May 2022.
Artists impression of Stanley Street as part of Project Manawa and future public transport improvements. 

Photo 1 of 2
---
Partnership with Kāi Tahu
In June 2019, the Councillors approved a proposal to enter into a Partnering Agreement with Ngāi Tahu Property. The aim of this partnership is to agree a development plan for the Stanley Street site to deliver an integrated development of community assets and commercial buildings - what we now know as Manawa. This agreement enables us to work together and develop the site to the benefit of the district's communities and further enhance the district's position as Aotearoa New Zealand's premier domestic and international visitor destination. 
Partnership Purpose | Hoaketanga
To act together, mā te mahi ngātahi, and establish a thriving community heart precinct,
whakapuāwai hapori kāenga, on the Stanley Street site in central Queenstown, Tāhuna
---
What's the latest?
Consultation is underway on potential next steps to enable Project Manawa; a long-term vision for community and cultural facilities on a central and easily accessible site located at Stanley Street, Queenstown.
If fully realised in the future, Project Manawa could include community facilities, an integrated transport hub, a mixed-use precinct, more opportunities to tell local stories, new spaces and places to enjoy and connect, along with a new civic administration building.
The current consultation can be broken down into the following two topics:
Proposed land exchanges: a series of land exchanges to optimise the potential for the Manawa site; and

Proposed joint venture arrangements: a potential joint venture and governance structure for constructing and owning the new civic administration building at the Manawa site.
This consultation is not seeking submissions on the proposed buildings or facilities themselves. The community facilities will be subject to further consultation at a later date, following the outcome of this current process.
A Statement of Proposal, further supporting information and a submission form can be found at https://letstalk.qldc.govt.nz/project-manawa
Submissions close on 17 December 2023.
---
Timeline
While we're still in the very early stages of this long-term project, here's a rundown of what's happened so far: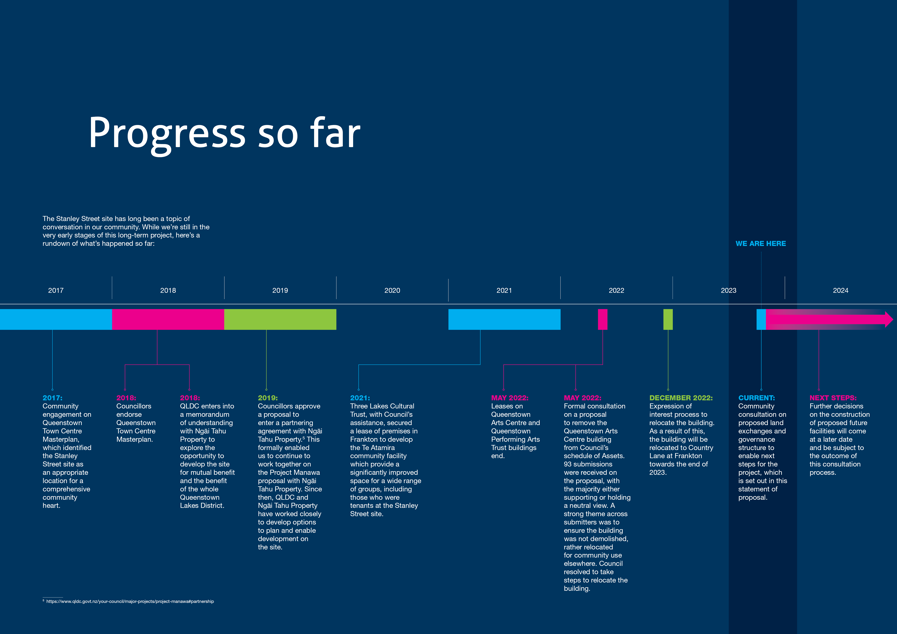 ---
Project Connect - a combined office
Project Connect is the name for the planned single office space for Queenstown-Wakatipu which will enable all Queenstown-based staff to be housed under one roof rather than the four town centre locations. Project Connect will form part of the Project Manawa development and will:
streamline services for the community;
improve efficiencies between QLDC departments who are currently based across Queenstown;
align with QLDC's aim to ensure the town centre remains vibrant and authentic; 
keep local people in the town centre by maintaining the presence of civic and community buildings;
indirectly support a range of other centrally-operated businesses and professionals. 
---
Stay up-to-date
Sign up to our newsletter Scuttlebutt and stay up-to-date with the latest news, events & information in the Queenstown Lakes District.