About the project
The new pump station will take the load off our existing facility at Marine Parade which is currently the only wastewater pump station to serve Queenstown, Fernhill, Sunshine Bay, Gorge Road and Arthurs Point. The current pump station does not have any emergency storage facility and is unable to be taken off line for more than a few minutes for maintenance.
The new pump station at the Recreation Ground will provide emergency storage, additional pumping capacity and a new rising main (pipeline) for wastewater across town. This will provide more resilience to our wastewater network in Queenstown and reduce the likelihood of uncontrolled flows of wastewater into Lake Wakatipu.  
What's the latest?
Since the Recreation Ground Pump Station and Wastewater upgrade project started back in May 2020, we've installed over 650 metres of wastewater pipe along Park Street and made great progress on building the new pump station at the Recreation Ground carpark.    
We're now getting ready to move on to the next stage which involves using a technique called Horizontal Directional Drilling (HDD) to install 870m of wastewater pipe across the town centre.   This work will start in early September and take approximately 4 weeks to complete. 
---
What is Horizontal Directional Drilling? 
Horizontal Directional Drilling is widely used throughout New Zealand and the rest of the world but it's the first time we've used it here in Queenstown.  HDD involves the use of a specialised drilling rig to drill a borehole 20-30m under the surface before the pipe that is being installed is pulled back through and connected to the network.  
We are using this approach because it is less disruptive and faster than trenching and will provide long term engineering benefits for the wastewater network. Benefits include lower operational costs and reducing odour issues in a high use area of Queenstown.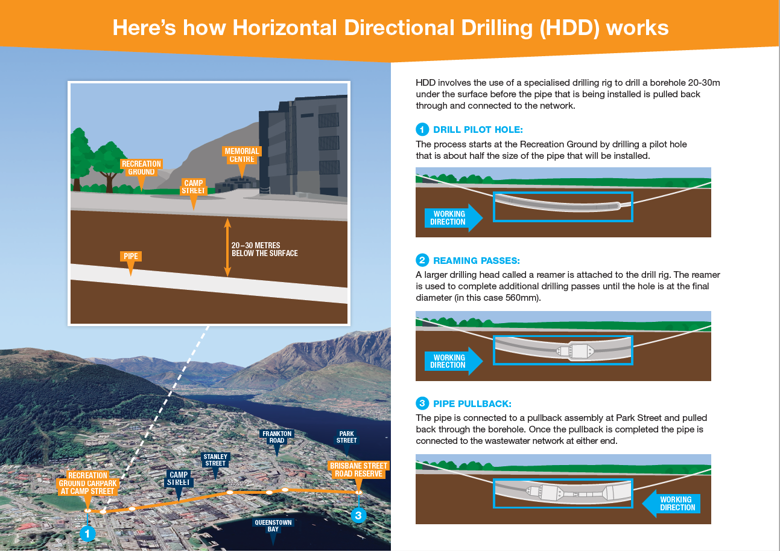 What to expect:
While this approach was chosen as a way of minimising disruption in the town centre, there are a few things to be aware of.   A drill rig will be located at the existing Recreation Ground Carpark worksite and a pullback assembly will be located at Park Street.   There may be some noise and vibration and we'll work closely with any residents or businesses adversely affected by this. 
Frankton Beach and Lake Wakatipu:
We are welding together 15m lengths of pipe into two 435m lengths at the southern end of Frankton Beach.  These will be joined and floated across Lake Wakatipu to opposite Park Street where the drill shot will exit.   The pipe will be hooked on to the drill head, pulled back towards the Recreation Ground and connected at either end.   While this work is underway, access to the south end of Frankton Beach is closed and extra care will be required on the lake while the pipe is being floated across.  We'll communicate more about this closer to the time.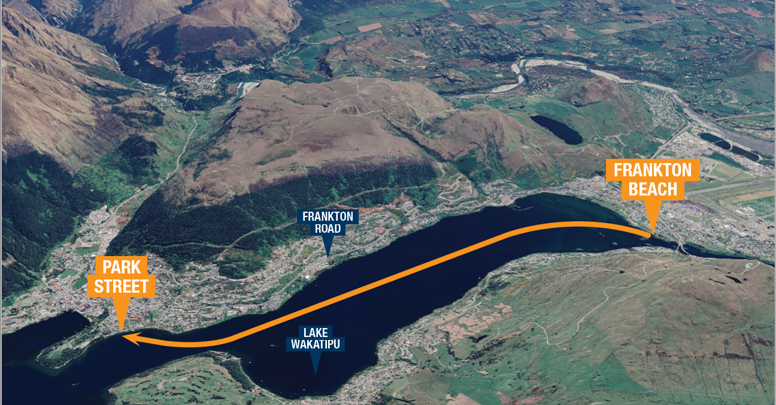 Possible disruptions
A huge thank you to all of the residents and businesses near the Recreation Ground and along Park Street.  We have really appreciated your patience so far.  
Here's what you can expect over the next stages of the project: 
Frankton Track - temporary closure 24 August - 17 September 
Part of the Frankton Track will close  from 24 August until 17 September to allow for the safe installation of a new wastewater pipe.   A detour will be in place.     Click on the map below for a larger version.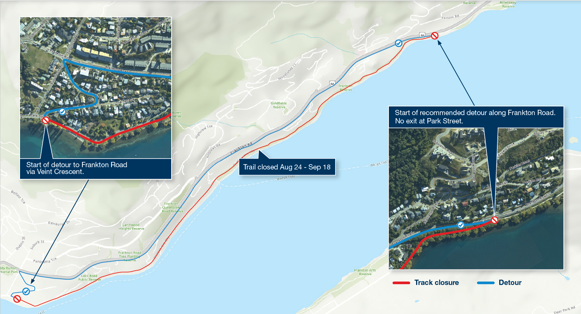 Frankton beach 
Access to part of the south end of Frankton Beach will be closed   over August to allow for a large pipe to be welded together.   The area will be  safely fenced off and access to the Queenstown Trail will remain.