Lakeview Development
Quick links
Lakeview concept and vision
In October 2019, we signed a development agreement with Melbourne-based developer Ninety Four Feet and Auckland-based investment company Augusta Capital for development of the Lakeview land. Through this partnership, and others with Ngāi Tahu Tourism and Well Smart Ltd, the Lakeview Precinct will become a vibrant and complementary extension of the existing town centre. The site will offer residential buildings, hotels, co-working and co-living spaces, hospitality and retail, and a hot pools attraction. Construction will be phased over seven stages and is estimated to take more than ten years to complete.
Lakeview precinct early concept video
This image represents the aspects of the Lakeview site being developed under the Development Agreement, shown in phases: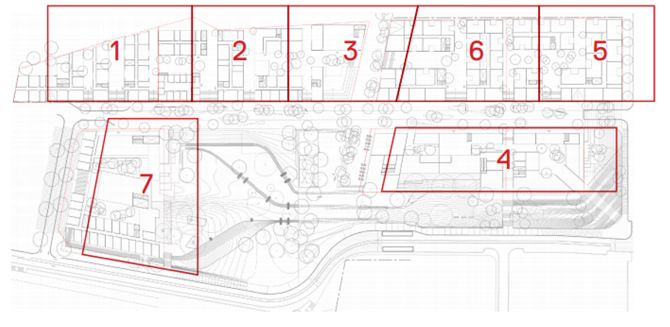 A copy of the full subdivision please is available to download by clicking here.
---
Project History
In July 2016, the Lakeview land in central Tāhuna Queenstown was rezoned from high Density Residential to Queenstown Town Centre (under Plan Change 50). This was based on an identified need for the expansion of the Queenstown town centre, in order to provide for and facilitate economic growth. Both visitor and population growth continue to exceed expectations and the town centre requires continued investment to accommodate that.
Project Objectives
Maximise financial return in a manner that minimised risk to ratepayers

Establish a thriving residential focused, mixed-use precinct, which is stitched into the Queenstown town centre context and;

Exhibits best-practice urban design principles, is walkable, activated, liveable and authentic;

Exhibits a consistent design language and high-quality built form outcomes that complement the natural environment, fit into the Queenstown context and are of human scale;

Provides a diverse retail mix which complements and provides for the natural expansion of the existing town centre core and will appeal to locals and visitors;

Provides for the intensification sought via Plan Change 50 and delivers a variety of housing outcomes and/or a diverse residential community;

Considers opportunities for visitor accommodation and/or visitor facilities where these are economically viable.

Ensure Lakeview's development potential is unlocked in a timely and efficient manner. 
---
Plan Change 50
In September 2014, QLDC notified a proposed plan change (PC50) to the Operative District Plan to rezone the Lakeview site as "Queenstown Town Centre". The purpose of the plan change was to provide an extension of the existing Queenstown Town Centre by rezoning:
The Council-owned Lakeview site;

Some privately owned land adjoining the Lakeview site and bounded by Thompson and Glasgow Streets;

34 Brecon Street site;

Two additional blocks bounded by Camp Street, Isle Street, Man Street, and Hay Street; and

The Lake Street/Beach Street/ Hay Street/ Man Street block.
Following a public consultation, hearings and appeals process, the plan change was made operative in July 2016. 
All notifications, reports and submissions on the plan change can be found under here under "Plan Change 50 Queenstown Town Centre Extension".
Project Milestones
| Date | Milestone |
| --- | --- |
| September 2014 | Public notification of Plan Change 50 to rezone the Lakeview site as "Queenstown Town Centre Extension" |
| June 2015 | Council decision made to adopt Plan Change 50 |
| July 2016 | Plan Change 50 made operative |
| March 2019 | Evaluation of Developer proposals completed |
| March 2019 | Melbourne-based developer Ninety Four Feet and Auckland-based investment company Augusta Capital confirmed as Developers |
| April 2019 | Heads of Agreement executed with Developers |
| July 2019 | Development Agreement executed with Developer |
| June 2020 | Site clearance contract awarded following open tender process in February 2020 |
| July 2020 | Site clearance commenced |
| November 2020 | Master Development Plan approved |
| July 2021 | Infrastructure improvements contract awarded to the Wakatipu Transport Alliance |
---
Infrastructure upgrades
Kā Huanui a Tāhuna has been engaged to lay the underground services and to create the streets that will enable the future development of this land.
What's the latest?
Good progress is being made to provide new infrastructure for the Lakeview development. We have completed the install of a new water main, sewer main and stormwater services along Man Street.
Next we will move on to the 'above ground' work which includes the rebuild of footpaths and road foundations in preparation for a new road and sealing. To create the space for this work to be completed safely, we need to close Lake Street from 28 August – 30 October 2023.
The latest updates on Lake Street disruptions can be found via this blog.
Lake Street Closure Q&A
---
Frequently asked questions