Climb
Pikika
*** Bookings open for kids' Term 3 climbing classes   ***
*** Scroll down for full details ***
The Rockatipu indoor climbing wall at Queenstown Events Centre is open during our normal operating hours, 6.00am-9.00pm weekdays and 8.00am-8.00pm weekends.
Belay licence holders are able to climb at any time around kids' after-school sessions but must still book ahead during peak times.
Bookable sessions are live on our website with two-hour slots available at the following days and times:
| Monday | Tuesday | Wednesday | Thursday | Friday |
| --- | --- | --- | --- | --- |
| 12.00pm |   | 12.00pm | 12.00pm | 12.00pm |
| 2.00pm | 2.00pm | 2.00pm | 2.00pm | 2.00pm |
| 7.00pm | 6.00pm | 7.00pm | 7.00pm | 5.30pm |
|   | 8.00pm |   |   | 7.30pm |
Our instructors will be onsite as usual from 12.00-9.00pm weekdays and are ready to welcome climbers of all levels back to the wall. If you don't currently have a belay licence for the wall then come along during these instructor hours for an assessment, or just for a casual drop-in session.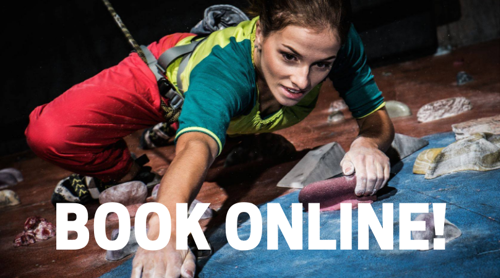 BOOK A CLIMBING SESSION 
STEP 1: Log in by clicking HERE

STEP 2: Book your lesson(s) by clicking HERE
If your current belay licence has expired, you may still book in to complete an observation and assessment session of your ability to meet minimum safety requirements.
_________________________________________________________________________________
Reaching a dramatic 12 metres in height, our indoor wall features a wide range of climbs involving different styles and catering for complete beginners through to expert lead climbers.  
- More than 40 climbs available for leading and top roping

- New Zealand climbing grades from 14 to 27 (FR 4c-7c ; US 5.7-5.12d)

- Vertical and overhanging rock features

- Friendly, qualified instructors

- Kids' climbing courses

- Equipment hire (climbing shoes and harness)

- Kids' birthday parties.
Supervision Policy
Adults must obtain a Rockatipu Climbing Wall belay licence before they can climb without instructor supervision or with children. Belay licences can be obtained during the instructor session times below and are valid for 12 months.
Climbing wall closures
Occasionally we need to close the wall for events in the main indoor stadium. We apologise in advance for any inconvenience.
For all the latest check out our Facebook page and Rockatipu Climbing Wall public Facebook group.