---
About Summerdaze
Summerdaze is a collection of events we'll be running for the summer months from December 2021 to April 2022 throughout our community, encouraging residents and visitors to enjoy the outdoors, celebrate their neighbourhood and spend time with one another.  We're currently working on a collection of events so keep an eye on this page for news and updates.
We've also created a Community Activation Pack (CAP) filled with items and games that Community Associations and neighbourhoods can book and use to host gatherings while in Orange and Green light settings.  You'll find the list of items and a booking form below to help you start planning.
---
Summerdaze Games - GooseChase
Summerdaze Games is a local scavenger hunt game played via the 'GooseChase' app. There will be games from December to April. 
Summerdaze Games Parks Challenge is now live! Complete missions and earn some prizes in our latest GooseChase!
We're encouraging all community members to sign up and play to connect with others, have fun outdoors and get to know your local community. 
How to play:
Download the GooseChase app via the app store

Join our game by searching 'Summerdaze Games'

Join the appropriate game and read the terms and conditions for playing the game.
Keep across all updates on our QLDC Sport & Recreation Facebook page.
Download the GooseChase app on iOS or Andoid.
Corporate Supporters - Gold

Prize sponsors
---
Waterfront Games and Pop-Up Library
We're bringing waterfront games back for one last run on 20 and 21 April. It's the perfect school holiday activity for kids so we hope to see you there.
See the schedule below!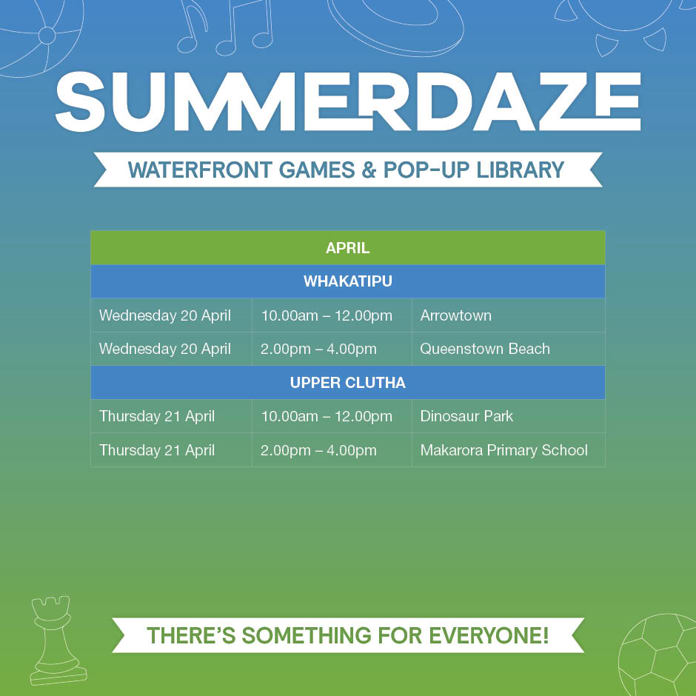 Keep an eye on this page and on our QLDC Sport & Recreation Facebook page for updates.
---
Summerdaze Local Bike Challenge
Sport Central has created a bike challenge/scavenger hunt for your region. Suitable for all ages and abilities, there is something for everyone!
How to play:
Download and sign up to the GooseChase app via the app store.

Join our game by searching your region (Cromwell, Wānaka, Te Anau, Queenstown).

Hop on your bike to complete missions, upload your snaps, collect points and win prizes!
---
Book a community gathering
QLDC has made the decision to offer our community activation packs at Orange and Green light settings only.
This decision has not been made lightly especially as the Summerdaze programme is aimed at connecting communities, celebrating our neighbourhoods and enjoying the outdoors. However, paramount to all decision making is the safety of our community and to take all steps possible to minimise the spread of the virus.
We realise this recent change to Life at Red can be unsettling for some in our community, so please do stay connected with your friends, family and community – whether this be a phone call, joining a local group or organizing regular catch ups with those you care about.
While in Orange or Green, we can provide a number of games and items to help support your community gathering. Simply fill in the form below, select the date you'd like to run your event and a member of our team will be in touch.
Please note: We are looking at ways we may be able to offer the Community Activation Packs during the Autumn months if we are operating at Orange or Green.
Looking for tips and tricks on how to host your own community gathering? Check out Link Upper Clutha's 'How To' guide for neighbourhood gatherings.
---
Picnic at Home - Nominations now closed!
We've got free Easter Hampers to give away to our senior community! We know it has been tough for our over 65's so we're wanting to spread some cheer this Easter.
Courtesy of Te Hau Toka Southern Lakes Wellbeing Group and QLDC Summerdaze! If you're looking to spread a little love and cheer this Easter then nominate yourself or someone you know using the form below.
If the online form isn't working for you, then you can also head to your local library to fill out a paper form there.
Nominations close on 31 March. Nominated people must be over 65. Please call Lisa Gear (027 816 7338) or Mary Wei (03 450 1791) to find out more.