---
Town Centre traffic impacts
Check out a map showing the road closures and disruptions due to ongoing upgrades in the Queenstown Town Centre.   This map is updated weekly by Waka Kotahi NZ Transport Agency.
---
What's the latest?
Gorge Road closure
We're completely rebuilding a section of Gorge Road and all the connecting roads – while keeping all properties connected to underground services. That means carefully working around existing pipes under the ground – and those pipes are old, fragile and not always where expected. The work is intricate and slow, taking approximately twice as long than if we were laying new services in a new subdivision.
To complete this work as quickly and safely as possible, we will be closing a section of Gorge Road, between Stanley Street and Weaver Street. This closure will see the following work completed:
Lay all new underground infrastructure, including:
stormwater lines

water lines

wastewater lines

electricity conduits

telecommunication conduits
This will be followed by the excavation of the existing road and footpaths and the construction of the new intersections, including:
new kerb lines

road carriageway

line marking
Gorge Road will reopen in June 2023 (finishing up before ski season starts), and we will continue with the upgrade over the next six months, completing:
footpaths

traffic lights

street furniture

signage
Over this time there will be a two-way detour via Robins Road.   
Please note Gorge Road will reopen on 19 November for the Queenstown Marathon and over the Christmas-New Year period (24 December until 8 January).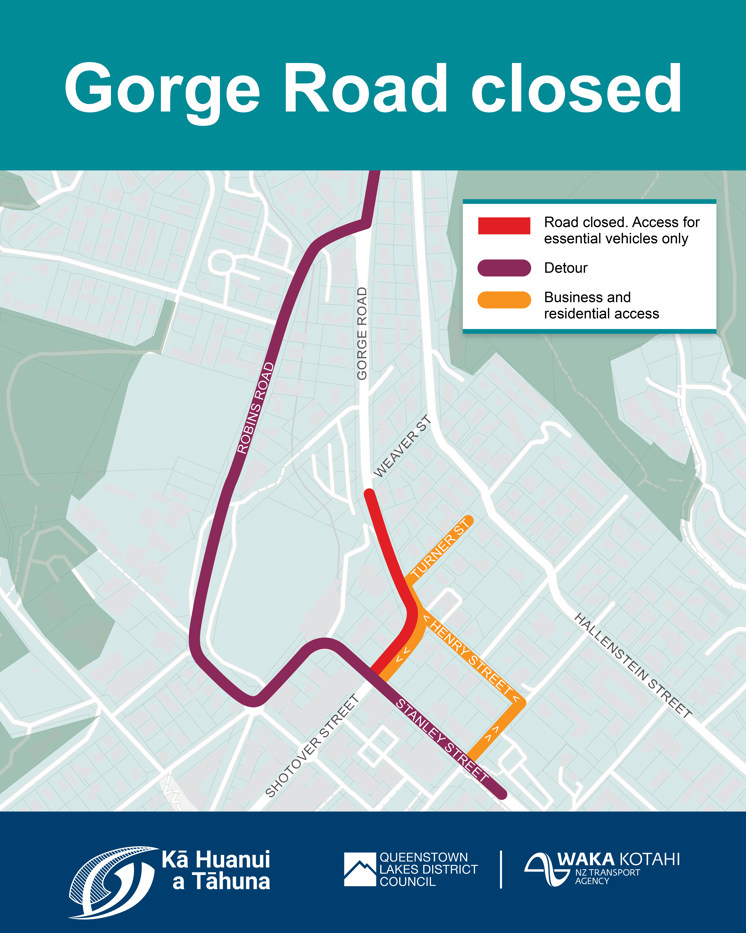 Frankton Road/Melbourne Street intersection
From late-March until late 2023, crews will be building a new road layout to create the gateway to Stage 1 of the new road. Deep trenches will be dug to upgrade underground services and the road will be widened and rebuilt, creating a safer intersection at Melbourne Street and Frankton Road, as well as more space for buses, walking and cycling.
Over this time there will be quite a bit of disruption to a 200m stretch of Frankton Road between Suburb Street and Adelaide Street.
If you travel into town regularly you can expect:
Two lane traffic is maintained but the lanes will be narrow

Speed limit reduced to 30km/hr

Intersection closures

Changes to bus stop locations

Access for walking and cycling maintained
Please take care in this area – slow down, stay alert and follow all signage in place.
There will also be localised traffic disruption experienced by people at various times on all the other roads that form, or are connected to the Arterial.
We know these disruptions can be challenging and we're grateful for the support, patience and open dialogue so far. The construction underway is significant but please remember it won't last forever and will be worth it.
---
Plans and illustrations
These are very large files. If you are having trouble downloading them, please get in touch and we can provide you a printed copy. 
---
Frequently Asked Questions