---
About the project
The pipeline will start slightly up Anderson Road, cross the State Highway, head along Macpherson Street and Golf Course Road. The pipeline route is shown in orange on the map below.
We will also be building a new pump station on Wānaka-Mount Aspiring Road.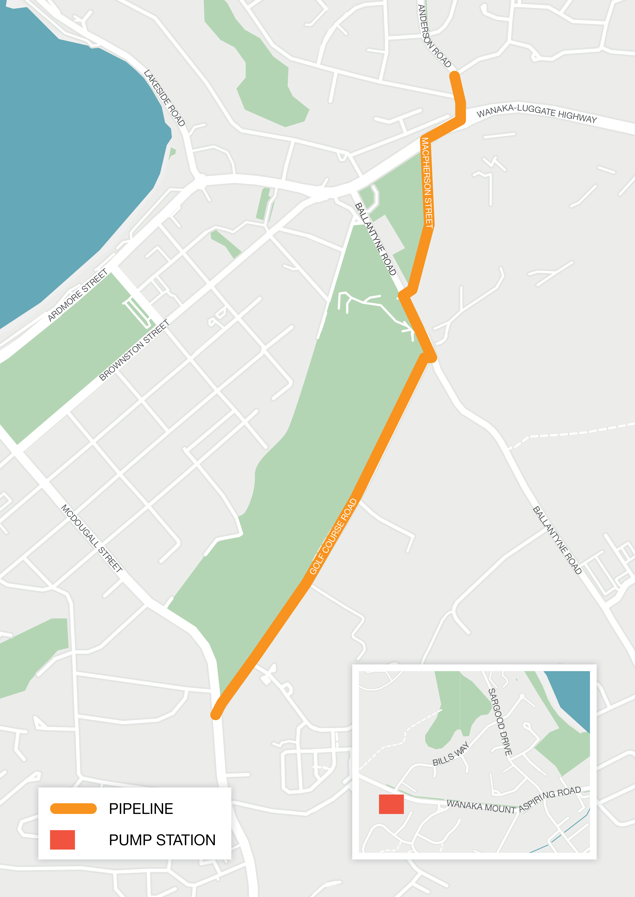 ---
What's the latest?
Pipelaying work along Golf Course Road has progressed well and we are now at the next stage of the project which involves installing the new water main down Ballantyne Road. From 16 May, Ballantyne Road will be reduced to one lane of traffic from the intersection of Macpherson Street to Golf Course Road, travelling south towards Three Parks.
There will be no left turn from Golf Course Road onto Ballantyne Road. Work hours are 7.30am – 6.00pm Monday to Saturday, however this section of Ballantyne Road will be one-way even outside these hours. This closure is expected to be in place for one month.
Golf Course Road is currently reduced to one lane of traffic. The south-bound lane is open for resident and business access only. Access to Golf Course Road is via Ballantyne Road only with a diversion in place along McDougall Street and Brownston Street. Golf Course Road is expected to open to two-way traffic at the end of May.
Following this, work on the pipeline will continue along the remaining streets, including Macpherson Street.
Work on the pump station is also underway with the site excavated and formwork for the foundations currently being installed. There may be periods where it seems nothing is happening on site, however that's when crews will be installing the below ground pipework.
Both the pump station and pipeline are expected to be complete by the end of 2022.
---
What to expect
As with any large construction project, there will be some disruption while this infrastructure upgrade is underway.
At times you may experience some inconvenience with parking and/or access to your property, however, every effort will be made to get the work done as quickly as possible, with minimal disruption.
For the period of works access to your property will be maintained, and all access will be fully reinstated after the work is complete.
We'll work directly with anyone who might experience higher levels of disruption and give you notice ahead of any planned works.
---
Any questions?
If you have any questions at this stage, please give us a call on 03 441 0499 or email services@qldc.govt.nz