Wednesday, 22 March 2023
Town Centre street upgrades tell local stories
Strolling through the upgraded town centre streets of Queenstown you can learn a lot more about the area's traditional values, stories and rich history.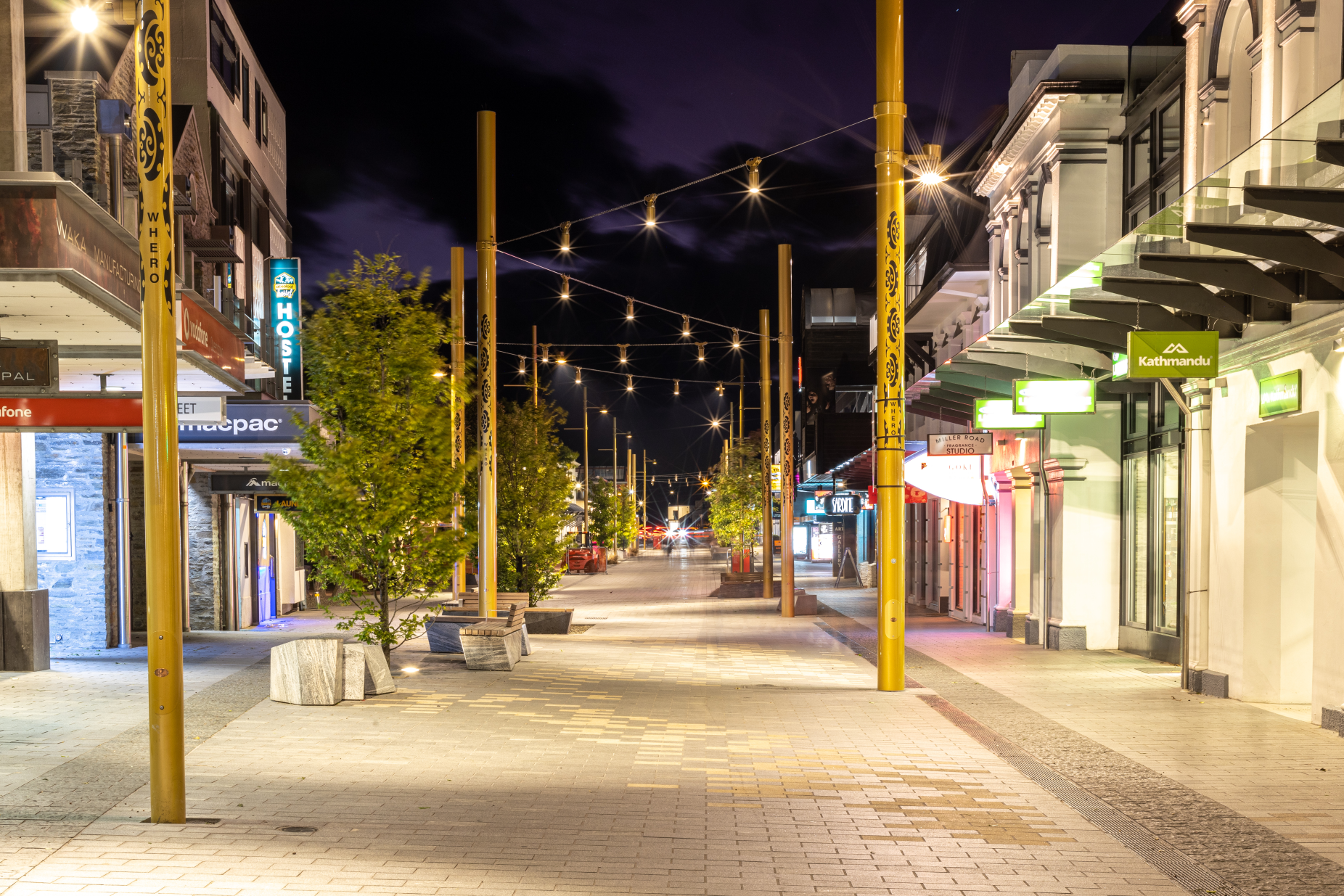 Strolling through the upgraded town centre streets of Tāhuna Queenstown you can learn a lot more about the area's traditional values, stories and rich history, thanks to a series of integrated cultural design elements.
Tāhuna Queenstown is a place of significance for Kāi Tahu Whānui, and traditional values that remain important to iwi have been expressed throughout the design of the upgraded streets.
These themes and values have informed the Tāhuna Cultural Design Strategy, developed with Kāi Tahu representatives and the design team for the Queenstown Town Centre Street Upgrades project.
Tāhuna is an area of traditional settlement, food gathering and industry, as well as a renowned place of refuge, rest and recuperation and significant centre of contemporary tribal commerce, particularly for tourism.
The region also has a rich history of gathering and mining precious stones, notably pounamu and whero (gold).  The streets reference both the cultural significance of pounamu in the region, as well as the gold mining heritage.
As you walk around the upgraded streets you can see this narrative through the paving and light poles.
Key aspects of the design narrative include:
'Whero' was used in the 1880's during the gold rush by Kāi Tahu referring to gold or more generally to indicate anything brightly coloured. The two words 'whero' and 'pounamu' were the basis for the motif designs on selected light poles. Produced by Kāi Tahu artists, the Kowhaiwhai design on the light poles represents travel in the form of waka. Traditionally mokihi waka were used to traverse lakes and rivers, transporting people, food and resources such as pounamu.
The pounamu narrative on Rees Street combines pounamu inlays with green granite paving and green light poles. This provides a contrast to the whero (gold) narrative along Beach Street which is accented with golden granite paving, gold light poles and bronze inlays.   The inlays are expected to be placed on Beach and Rees Streets over the coming weeks.  
At the crossroads of Rees and Beach Street, a paving feature of taniko pattern of overlapping pounamu and whero signifies the traditional Kāi Tahu trails and the intersection of both cultural heritages and two industries.
Stone stools and benches are located throughout, promoting the value of 'Oraka' meaning refuge, rest and recuperation. This design was inspired by the angles of rock formations and kōhatu (working stones).
New native trees that are endemic to Tāhuna Queenstown have been planted in Rees Street. These trees demonstrate the interwoven narratives of the Rees Street 'pounamu' theme, and exotic autumnal trees have been planted to reflect the Beach Street 'whero' / gold mining theme.
Along upper Brecon Street a large retaining wall has been constructed, near the boundary between Brecon Street and the Queenstown Cemetery. The precast concrete panels on the face of the wall were designed by Kāi Tahu Artist James York with design teams from Aukaha, LandLAB (Urban Design) and Beca (Structural Design).
The retaining wall references Ahi Kā (Ancestral Connection and Ongoing Identity) and the narrative of Hākitekura – relating to Te Taumata o Hākitekura, (the resting place of Hākitekura) - the original name for Ben Lomond.  There are future panels to complete the wall on the Skyline side. This will include 'Te Taumata o Hākitekura' in typography developed by Neil Pardington.
QLDC would like to acknowledge and thank its iwi partners for the time and care that has been given to bring a richness and sense of history and culture to Tāhuna Queenstown's upgraded streets.
Finishing works on Beach, Rees, Park and Lower Brecon Streets are being completed throughout April and May.  Upper Brecon Street is expected to be complete later in the year.  
ENDS|KUA MUTU.
Media contact: communications@qldc.govt.nz or call 03 441 1802.
Image of Beach Street, Queenstown attached.
FURTHER INFORMATION | Kā pāroko tāpiri
The street upgrade project is supported by government funding from the Infrastructure Reference Group (IRG) fund. 
The street upgrade project is being delivered by Kā Huanui a Tāhuna, a transport alliance between Queenstown Lakes District Council and Waka Kotahi NZ Transport Agency, along with four design and construction companies; Beca, WSP, Downer New Zealand and Fulton Hogan.
For more information about the Town Centre Street Upgrade project, visit https://www.qldc.govt.nz/your-council/major-projects/queenstown-town-centre-street-upgrades