Alpine Aqualand
Alpine Aqualand is based at the Queenstown Events Centre in Frankton and is a great option for entertaining the family, relaxing or keeping fit.
Our Supervision Policy
Contact us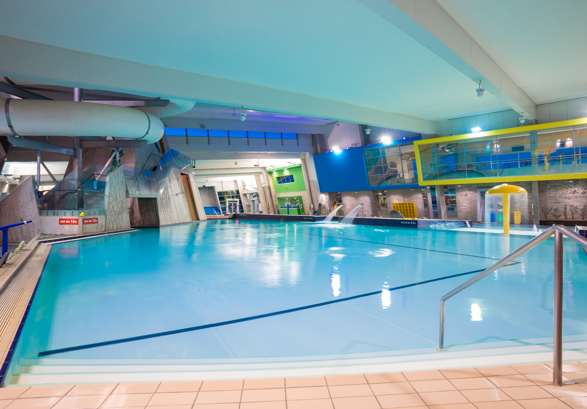 To help you plan your visit in advance, you can view the Alpine Aqualand lap pool timetable for the current week here. This shows which lanes are booked and which remain free for public swimming through each day.
| Normal opening hours | Pools & changing rooms | Hydroslides |
| --- | --- | --- |
| Weekdays** | 6.00am-9.00pm | 4.00-6.30pm |
| Saturdays & Sundays | 8.00am-8.00pm | 10.30am-6.30pm |
| School Holidays | As normal | 10.30am-6.30pm |
| Public Holidays*  | 8.00am-8.00pm | 10.30am-6.30pm |
| ANZAC Day (25 April) | 1.00pm-8.00pm | 1.00pm-6.30pm |
| Christmas Day and New Year's Day | Closed | Closed   |

*(except ANZAC Day, Christmas Day and New Year's Day)

**Please note: the hydroslides are closed at Alert Level 2.

To help you plan your visit in advance, you can view the Alpine Aqualand lap pool timetable for the current week here. This shows which lanes are booked and which remain free for public swimming through each day.

 

Close

Choose between casual entry prices, a 10 visit pass, or save with a membership!

Casual entry prices

Pass type

Adult

Senior / Beneficiary

Child

Casual swim
$8.50
$5.00
$4.00
Hydroslide
$8.00
$5.00
$5.00
Toddler time
$7.00 per adult, with up to two toddlers 4 years and under swimming free.



 

Ten-visit pass

| Adult | Senior / Beneficiary | Child |
| --- | --- | --- |
| $75.00 | $45.00 | $35.00 |
| Join | Join | Join |

 

Swim membership prices


| Membership | Adult | Senior/ Beneficiary | Child | Family |
| --- | --- | --- | --- | --- |
| 12 months | $425 | $209 | $179 | $709 |
| 6 months | $280 | $129 | $109 | $429 |
| 3 months | $189 | $79 | $59 | N/A |
| 12 months (direct-debit) | $20/ fortnight | $10/ fortnight | $8/ fortnight | $34/ fortnight |
| 6-months (direct debit) | $24/ fortnight | $12/ fortnight | $10/ fortnight | $40/ fortnight |
|   | Join | Join  | Join | Contact Us  |

 

Please note the hot pool is exclusive to those aged 16+ years. The learners' pool is available for Aqualand Swim School lessons only, or by private hire arrangement

With a casual entry pass you have access to all pools within the facility; hydroslide entry is an additional cost

With our memberships you can select whether you'd like to pre-pay up front or pay in installments via direct debit; all swim memberships include free use of all Queenstown Lakes District Council swimming facilities, excluding use of the hydroslides

For more advice about choosing the best option for you please give us a call on 03 450 9005 and a member of our Customer Services team will be happy to talk you through the benefits of each.

 

Terms and conditions

Senior/ Beneficiary: 65+ years with ID or holders of a Super Gold or Community Services Card

Child: 5-18 years (ID may be required)

Toddler: 4 years or under

Group Discount: available for advanced bookings only; please enquire at reception

10-visit Swim Card: Valid for 12 months from date of purchase & excludes use of the hydroslide

Family Memberships: One or more dependent children living with one or two responsible adults (i.e. parents and/or caregivers) at the same address; QLDC reserves the right to request proof of address and other qualifying documents at time of purchase.

Membership Inclusions: All members get free access to all Queenstown Lakes District Council swimming facilities excluding use of the hydroslides.

Close

The Alpine Aqualand pool crew always puts on heaps of fun activities every school holiday.

Click here to view/download a timetable for the  next school hols a week or so before they begin.

Close

Alpine Aqualand is perfect for all ages. Whether you'd like to entertain the family, keep fit or relax, there is a pool designed for you, including:

25m lap pool with 8 lanes

Leisure pool and lazy river

Two hydroslides, catering for various heights

Tapered toddler pool with water features

Adult hot pool (16+ years)

Learners' pool for swimming lessons.

25m lap pool

8 lanes wide and heated to 27°C ranging from 1.2m to 2m in depth. Where possible we try to have at least two lanes open to the public at all times. We cater for slow, medium and fast swimmers, although this may not always be possible due to school swim events and other large bookings. These significant events will be mentioned on our Facebook Page, alternatively you can phone Customer Services to check availability. 



Leisure pool and lazy river

Heated to a beautiful 32°C, this pool is intended for gentle exercise and fun. The leisure pool includes a 37m lazy river which is lovely to float around and can also be used for aqua walking or jogging for a more athletic workout.

Hydroslides

Our two hydroslides are popular with kids of all ages. You must be at least 1.4m in height to use the fast hydroslide. Our slow hydroslide is ideal for shorter children with caregivers.

Toddlers' area

Our specially designed toddlers' area tapers to a maximum depth of 50cm and is heated to 32°C. This space allows children to play and experience the water in a fun and safe environment with exciting water features. Toddlers must be actively supervised as per our supervision policy.



Adult hot pool

A great way to relax after a busy day, a few laps in the lap pool or a day on the ski slopes. The hot pool is heated to 39°C. Please note that use of the hot pool is exclusive to those aged 16 and older.

Learners' pool

Our purpose built learners' pool is maintained at a comfortable 32°C. Ranging from 75cm to 1.2m in depth, this pool has been designed specifically for teaching the life skill of swimming and is perfect for students who aren't yet ready to swim in the lap pool. The learner's pool isn't open to the public unless they are taking part in a swimming lesson or have hired the pool for private use.

Close

Changing rooms

We have large male and female changing rooms with showers, toilets, private changing cubicles, baby change tables and hair dryers. We also have four universal changing rooms for families, disabled and gender inclusive use. Additional changing rooms are located along the corridor by the indoor stadium/courts.

Accessibility

We have hand rail entry into all of our pools and disability-friendly ramps into the lap and leisure pools. A chair hoist is available for entering the adult hot pool and learners' pool, and we have a water resistant wheelchair available for anyone to use. Our four self-contained change rooms are available for those with accessibility needs and/or young families. Each of these rooms have pram and/or wheelchair access, a shower, toilet, bench, hand rails and a baby change table.

Storage areas and lockers

Keep your valuables safe with our secure poolside lockers. These cost $2.00 for a three-hour period (electronic payment only). Open cubby holes are also available for storing your belongings while swimming. For security reasons we recommend leaving your valuables at home whenever possible.

Lost property

Any items that are left behind or handed into our staff will be kept in lost property as follows: 

Valuables - handed over to NZ Police weekly.

Toiletries - kept for one week and then thrown out.

Clothing - kept for one month and then given to a local charity shop.

Socks/underwear - thrown out at the end of the day .

Lane swimming

Public lane swimming is available at all three Council-owned aquatic facilities: Alpine Aqualand (at Queenstown Events Centre), Wānaka Recreation Centre and  Arrowtown Memorial Pool (summer only). If the pool is busy you may need to share your lane with other swimmers - please swim on the left hand side and in the lane which matches your preferred speed.

Close

Whether you need just a few lanes or an entire pool, our pools are available to hire for team training sessions, swim meets, school sports competitions and private events. Lanes cost around $10/hour, must be booked in advance and conditions apply. A large BBQ is also available for groups to use with sufficient advance notice.

To enquire about making a pool booking, contact our Bookings Coordinator Brittany Race:
03 450 9110
brittany.race@qldc.govt.nz

Pool parties

Are you looking for a fun birthday party idea with a difference? We can help you or your child celebrate their special day with their friends and family  Check out the Birthday Parties section on our Kids Recreation page.

Close

Visit our sports shop for a great range of swim wear. We stock Speedo products, including:

Togs (swim suits)

Caps

Goggles

Fins

Aqua nappies

Towels

Floatation devices and more.

A selection of drinks, sports supplements, snacks, sweets and ice creams are available at reception too.

Aqua nappies

All children aged three and under must wear swim nappies and tight-fitting swimwear during their pool visit. The key requirement is that there are two lines of defence - nappy and togs. We recommend Speedo Aqua Nappies which are eco-friendly and re-usable. They are to be worn with a second layer - either togs or a disposable swim nappy.

You can buy aqua nappies at reception and local supermarkets.

Close
Contact us
Physical Address: Joe O'Connell Drive, Frankton, Queenstown
Postal Address: Private Bag 50072, Queenstown 9348