Wānaka Recreation Centre
Visit the three-pool complex at Wānaka Recreation Centre for family fun, swim lessons, relaxation or to keep fit.
*** Wānaka Recreation Centre pools closed  24 July to 1 August ***
See below for more info...
Our Supervision Policy
Aqua nappies
Contact us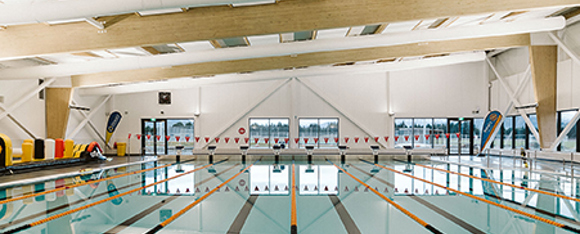 Our 8-lane 25m lap pool, 20m learners' pool with separate toddlers' area, and adult hot pool is located in the busy Three Parks commercial area only a five-minute drive from central Wānaka.
To help you plan your visit in advance, we provide an online pool timetable to show which lanes are booked and which are available through the day. You can also call us anytime on 03 443 9334 to check how busy the pools are before you set out.
To view a schedule of fun activities over the current school holidays click here.
Wānaka Recreation Centre pools closed  24 July to 1 August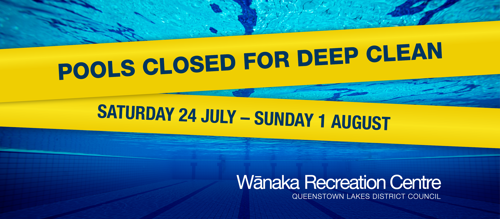 The pools at Wānaka Recreation Centre will be closed from 24 July to 1 August inclusive for a scheduled deep clean and preventative maintenance.
This is the first such closure since the pools opened in July 2018 and does not affect the indoor courts or other facilities at WRC which will remain open as normal.
All memberships will be suspended to compensate for the closure. Members can continue to use Alpine Aqualand (Queenstown Events Centre) as normal as per the terms of their membership contract.
Read more about the work we're doing here.
Thanks for your understanding while we complete this essential work!
| Day | Opening Hours |
| --- | --- |
| Weekdays | 6.00am–9.00pm |
| Saturdays & Sundays | 8.00am–8.00pm |
| Public Holidays  | 8.00am–8.00pm |
| ANZAC Day (25 April) | 1.00pm–8.00pm |
| Christmas Day & New Year's Day | Closed |

*(except ANZAC Day, Christmas Day & New Year's Day)

To help you plan your visit in advance, we provide an online pool timetable to show which lanes are booked and which are available through the day. You can also call us anytime on 03 443 9334 to check how busy the pools are before you set out.

Please note opening hours for our various facilities can change. We do our best to publicise changes in advance or as quickly as possible if they are for unexpected reasons beyond our control.

For up to the minute news on closures or cancellations follow QLDC Sport & Recreation on  Facebook. If you are making a special trip it is always worth giving reception a call on 03 443 9334 before you set out.

Close

Choose between our casual rates, or consider a range of membership options to get the best value.

Casual Entry Prices 

Pass type
Adult
Senior/ Beneficiary
Child
Casual Swim
$8.50
$5.00
$4.00
Toddler Time
$7.00 per adult, with up to two toddlers 4 years and under (i.e. under 5) swimming free.



 

10-visit pass

 

Membership Prices 

| Membership | Adult | Senior/ Beneficiary | Child | Family |
| --- | --- | --- | --- | --- |
| 12 months | $425 | $209 | $179 | $709 |
| 6 months | $280 | $129 | $109 | $429 |
| 3 months | $189 | $79 | $59 | N/A |
| 12 months (direct debit) | $20/ fortnight | $10/ fortnight | $8/ fortnight | $34/ fortnight |
| 6 months (direct debit) | $24/ fortnight | $12/ fortnight | $10/ fortnight | $40/ fortnight |
|   | Join | Join |  Join |   |

For more advice about choosing the best option for you, please contact our customer services team at reception who'll be happy to help:

03 443 9334

A few notes:

Please note the hot pool is exclusive to those aged 16+ years

With a casual entry pass, you have access to all pools within the facility.

With our memberships you can select whether you'd like to pre-pay up front or pay in installments via direct debit. All swim memberships include free use of all Queenstown Lakes District Council swimming facilities, excluding use of the hydroslides at Alpine Aqualand.

 

Terms and conditions

Senior/Beneficiary: 65+ years with ID or holders of a Super Gold or Community Services Card

Child: 5-18 years (ID may be required)

Toddler: 4 years or under

Group Discount: available for advanced bookings only; please enquire at reception

10-visit Swim Card: Valid for 12 months from date of purchase and excludes use of the hydroslides at Alpine Aqualand

Family Memberships: One or more dependent children living with one or two responsible adults (i.e. parents and/or caregivers) at the same address; QLDC reserves the right to request proof of address and other qualifying documents at time of purchase.

Membership Inclusions: All members get free access to all Queenstown Lakes District Council swimming facilities excluding use of the hydroslides at Alpine Aqualand.

Close

Change rooms and accessibility

Separate male and female change areas are available, containing showers, toilets, baby change tables and hairdryers. We have one self-contained accessible change room poolside and three separate universal changing rooms for families, disabled and gender inclusive use. A chair hoist and hand rails are available for entering the pool.

 

Retail

We have a great range of Speedo swimwear, swim caps, goggles and training accessories available to buy as well as a selection of drinks, snacks, sweets and ice creams.

 

Aqua nappies

All children aged three and under must wear swim nappies and tight-fitting swimwear during their pool visit. The key requirement is that there are two lines of defence - nappy and togs. We recommend Speedo Aqua Nappies which are eco-friendly and re-usable. They are to be worn with a second layer - either togs or a disposable swim nappy.

You can buy aqua nappies at reception and local supermarkets.

 

Lost Property

For security reasons we recommend leaving your valuables at home where possible. Any items that are left behind or handed into our staff will be kept in lost property as follows:

Valuables - handed to NZ Police after 24 hours.

Toiletries - kept for one week and then thrown out/recycled.

Clothing - kept for one month and then given to the the Salvation Army.

Socks/underwear - thrown out at the end of the day.

Close

Wānaka Swim School offers:

Qualified, experienced instructors

A positive and comfortable learning environment

Small classes and a friendly, personalised service

Indoor heated swimming pools

Family orientated environment

Intensive Holiday Swim Week programmes.

To view and download the current swim school brochure click here.

To book swim lessons in Wānaka online click here.

For more info please  contact us:

Wānaka Swim School
Wānaka Recreation Centre
03 443 9334
wanakaswims@qldc.govt.nz

About the Programme

QLDC Swim School is located at Wānaka Recreation Centre at Three Parks off Sir Tim Wallis Drive.

Regardless of your age or ability, you can learn the life skill of swimming and water safety with our quality programmes.

Lessons are available everyday during the school term, catering for children as young as six months through to adults. Whether you are new to swimming or wanting to improve your technique, we have a level for you.

If you have any doubt which lesson level you or your child should be in, we will provide you with a free swim assessment.

All children receive certificates of achievement as they progress and reach their goals.

As a Wanaka Swim School member, you can enjoy practicing or splashing about at Wanaka Recreation Centre for two hours prior to your lesson, or as long as you wish for after your lesson.


Holiday Swim Week

For faster progress and great value, consider our intensive Holiday Swim Week programme for your child. Choose one or more weeks each school holiday, with a 30-minute class every weekday morning to suit most abilities.

Close
Contact us
Physical Address: 41 Sir Tim Wallis Drive (off Ballantyne Road), Wānaka
Postal Address: Private Bag 50072, Queenstown 9348